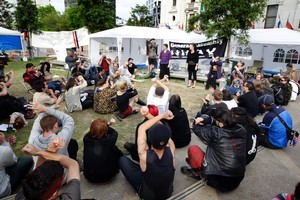 A small group of Occupy Auckland protesters reportedly attempted to storm the downtown Citibank building this morning.
The building is home to the US-based Citibank's local office, the US consulate and, at street level, a Postshop with a Kiwibank.
Four police officers stood just inside the door, while a group of about 20 protesters waved signs reading "Fear Less" and "Love More". For brief moments the group chanted "We are the 99 per cent" and "We want power".
Protesters made no attempts to invade the lobby of the Citibank building and five minutes later, the group returned to its Aotea Square base.
- Herald Online