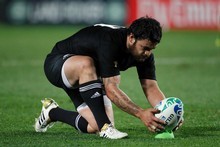 Betting agencies are joining fans to back black for this weekend's final, with the TAB offering $1.08 for an All Black win.
A French win would pay out $7.
Faith in the All Blacks has been echoed by Irish betting agency Paddy Power, which announced any outright bets on an All Blacks win placed before 10am last Wednesday will be paid before the final kicks off.
Paddy Power said it was paying early because "Les Bleus have no chance".
TAB bookmaker Mark Stafford said his agency agreed with fans that the All Blacks would win, probably by a margin of 15 to 20 points.
"People are definitely backing black and the figures reflect that.
"We [the TAB] are even sort of betting in a way, because we're on the other side of the bet."
There had been a huge increase in betting since the last two World Cups because of the time games were being played, Mr Stafford said. "We haven't got the exact figure, but we know it's four times larger than the last World Cup and two and a half times bigger than the previous one in Australia."
Some of the big bets for this year's final have included $50,000 put down on a New Zealand penalty goal to get the game started, and $1000 which would turn into $25,000 if the All Blacks could win by at least 50 points.
One of the best bets for someone with only $5 or $10 would be the $15 odds of a red card being given during the game, he said.
"The type of game the French will play leads you to believe [getting a card] would be a relatively safe bet."
The odds of Piri Weepu getting more points than Grant Fox did in the 1987 final were at $3.25 and had provided a bit of fun for punters.
"There has been a bit of interest in the 1987 versus 2011 final bet. Grant Fox will be delighted that people are betting on him."
Centrebet spokesman Neil Evans said his betting agency had witnessed the opposite of the TAB's influx in betting this year.
"There has been nowhere near as big betting as in the past. Leading into the tournament, we've never been so quiet. People have learnt the hard way, I think."
Fans were right in their support of the All Blacks, he said. "It's probably the most lopsided final we've seen in a while. No one is really giving France a chance at all."
The odds for the third-place play-off between Australia and Wales tonight were closer, with Australia at $1.62 and Wales at $2.20 at the TAB.
TAB ODDS
Friday
$1.62, Australia;
$2.20, Wales
Sunday
$1.08, New Zealand;
$7, France
BIG BETS
* $50,000 the first points will be scored through an All Blacks penalty goal.
* $1000 All Blacks to win the final by at least 50 points.
By Lauren Priestley