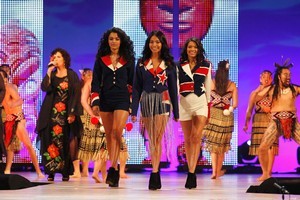 The supreme winner of this year's Westfield Style Pasifika is Kiwi fashion designer and mum Nadine Freundlich-Rathjens.
She won the Colonial Pasifika three-piece collection category with her blue-white-and-red garments depicting the Union Jack and New Zealand flag.
Her designs impressed the panel of judges so much she was named supreme winner and was presented with a $4000 prize at last night's event in Auckland.
She was chosen from 45 finalists in three categories, the other two being the Pasifika traditionally-inspired and the multicultural Pasifika style.
More than 300 designers entered the two-day event.