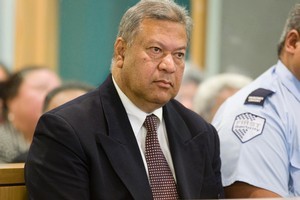 Disgraced former Labour MP Phillip Field says he never intended to break the law and his conscience is clear.
Field was released from prison yesterday after serving a third of a six-year sentence for bribery and corruption.
He was jailed in October 2009 after being found guilty by a jury in the High Court at Auckland of 11 charges of bribery and corruption as a MP and 15 charges of perverting the course of justice.
He was charged after then prime minister Helen Clark ordered an inquiry into allegations he had traded immigration favours for tiling, painting or plastering work on his properties in New Zealand and Samoa.
Outside prison yesterday, Field said: "Despite what's happened my conscience is clear. I never have at any time had the intention to break any law and, in God's good time, I believe that the full truth of things will be revealed and exposed."
Field, who has been given leave by the Supreme Court to appeal his conviction, said he had done what all New Zealanders did - pay tradesmen what they told him to pay, Maori Television's Native Affairs programme reported.
"I was a very busy politician and because of the language problems I should have been more attentive to those people and what they did in terms of the minor, not major, jobs that we asked them to do," he said.
"Most New Zealanders don't stand around and look at a tradesman doing his job, they just pay what they're told to pay. I should have insisted on invoices and that sort of thing but these people had a language problem, they can't read that sort of thing, can't write."
- APNZ