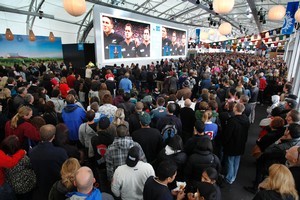 Captain Cook Wharf came to the rescue both nights this weekend as crowds flocked to fan zones on the waterfront - and across the city for the first time.
Fine weather drew out tens of thousands of rugby fans in Auckland to celebrate the quarter-finals of the World Cup, supporters who had arrived from all over New Zealand and around the world.
Albany, Henderson, Mangere, the Wynyard Quarter, the Viaduct and Captain Cook Wharf were all opened to tournament spectators - but Queens Wharf was still the place to be.
Huge queues pressed to get on the wharf even while other fan zones were barren. A peak crowd of 12,300 filled the wharf on Saturday, leading to 14 evictions but no arrests.
A similar number arrived at the wharf on a fine Sunday evening.
Tewharau Walker had come up from Turangi for the experience and was buzzing with excitement.
"I'm very hopeful ... It's going to be a good night," Mr Walker said.
Partygoers packed around food stalls and lines crawled slowly at the wharf as the evening went on.
The colour and festivities spilled on to the pedestrian-only Quay St and through to the Viaduct - while Captain Cook Wharf and its pair of big screens stayed mostly ignored, reaching just over 1000 patrons at one point on Sunday evening.
Every bar on the Viaduct was full or near capacity, packed with All Blacks fans dressed in support of the home team.
Lively groups of Argentine fans were the minority among the sea of black, but they made more noise.
"It's a celebration," said Juan Garcia-Malione, from Buenos Aires, gathered with a group of fans on the steps of restaurant Mecca, before travelling to the stadium.
"It's the first time we are playing at Eden Park."
Regional zones
Further afield, Albany, Henderson and Mangere also had big screens and entertainment for more than 13,000 fans during the regional fan zones' opening night.
Hundreds of families went to the Northern Lights fan zone in Albany to watch South Africa play Australia.
But at little more than 1000 spectators on Sunday afternoon - and about 2500 later for the All Blacks - the crowd was well short of the capacity of 10,000.
Mangere's fan zone approached 1500 people half an hour before the All Blacks match while Henderson remained subdued at 500.
Green shirts dominated the Albany crowd, which showed unwavering allegiance to the Springboks.
Genieve Padayachee was decked out in green with a yellow wig to watch the game with 14 other family members in support of South Africa.
"We're big rugby fans and we always get together when South Africa play," Miss Padayachee said.