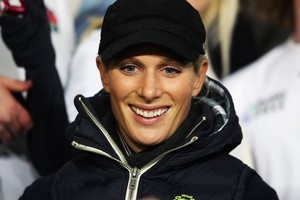 Alors! The French kissed England's Rugby World Cup 2011 campaign goodbye last night.
Tricolor supporters took to the streets around Eden Park, crowing and singing - delirious with joy at their team's 19-12 win.
It will be France's sixth appearance at a Rugby World Cup semi-final - a record unrivalled by any other team. The All Blacks stand to match the record if they beat Argentina tonight.
The French will play Wales next Saturday at Eden Park in the first semi-final.
Both sides in last night's showdown had had a tournament marred by embarrassment. The French team have been divided, feuding and playing poorly. The French press said they were "humiliated" after being beaten by Tonga in one of the biggest upsets in World Cup history.
Meanwhile England's competition has been fouled by off-field incidents.
English captain Mike Tindall watched his role in the team evaporate after weeks of focus on his night out in a Queenstown bar with a mystery blonde just weeks after he married the Queen's granddaughter Zara Phillips.
CCTV footage showed the pair canoodling into the early hours - and Tindall even burying his head in her breasts. She turned out to be Jessica Palmer, an old girlfriend of Tindall's.
Phillips flew out before last night's crunch match to compete in a horse event in Holland.
Roberto Colbert, 55, from Paris said after the game: "Incredible. We were in the gutter last week after the loss to Tonga but now we have risen to the sky. We could go all the way."
His friend Stephanie le Herissier, 28, from Lyon said: "They played on passion, pure and simple. I think we could have beaten anyone out there tonight, but victory against the English is always the sweetest."
The action in the stands mirrored the pitch, with French fans out-performing their English counterparts. The traditional English battle-cry of Swing Low Sweet Chariot was drowned out by chants of "allez les Bleus".
Dejected Englishman Dean Bradford, 23, of York, said it was the worst English performance he had ever seen. "They couldn't pass, they couldn't catch, they couldn't tackle, and they couldn't kick. It was a joke."
Compatriot Rachel Tretheway, 27, from London said: "I would hate to be one of the English team right now. [Coach] Martin Johnson will be tearing their heads off. It is what they deserve."
The crowd of just over 49,000 was the smallest of any matches played at Eden Park so far.
Among English supporters at The Cloud was "Irish" Pete McGregor. "France didn't deserve to win - they put in no effort and look what happens."
Toby Caemp said New Zealand always talked about how the game was played while the French discussed who won. "Always the bloody French. Never underestimate the French."
The French weren't underestimating themselves. Charlotte Bacon, 19, on a working visa in New Zealand for a year from France, said: "The English? Puh. We will win again and again and again."
French captain Thierry Dusautoir said he hoped to maintain the same high level at the semi-finals.
Recently appointed England captain Lewis Moody described the team as "bitterly disappointed" and the defeat was "hard to swallow". He said the English team were out-played at the "highest level of rugby".