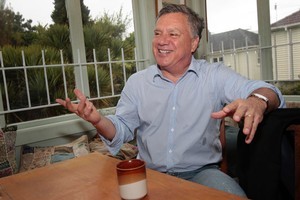 American James Clad tells Geoff Cumming about his high-profile career and enduring bond with New Zealand.
A life can follow many paths: the keep-your-nose-clean, job-clinging route; the roller-coaster ride; the comet that dazzles then fizzes. Jim Clad (or, as he's known in Washington, James C. Clad,) is a dual citizen of the United States and New Zealand who has courted trouble for 40 years - and survived.
Clad has been a diplomat who lacked diplomacy, a journalist who dodged bullets and risked imprisonment, an academic with street cred and a "Kiwi mole" in the Pentagon.
Despite walking out on the New Zealand Foreign Affairs Ministry in the early 80s, the American was this year made a member of the New Zealand Order of Merit for his efforts to heal the US-NZ anti-nuclear rift while working for the US Defence Department in Washington.
He has, he admits, issues with authority, but served in two US administrations (the latest ended last year) and remains a sought-after analyst on Asian political and security issues.
The Californian called New Zealand home for nearly 20 years before embarking, as a journalist, on a Boy's Own trawl of the world's troublespots, then settling in the seed of much global discontent - Washington.
So when he pops back here and tells it as he sees it about relations with China and our place in Afghanistan, and slams recent US foreign policy, it's worth listening.
It's precisely because he calls a spade a spade that he has got so far. It helps that he's been right, much of the time.
He supported the invasion of Afghanistan after 9/11 but long ago thought it time to leave. "The conceit that we could stay and turn this into a kind of liberal democratic pluralist state is the biggest pile of bullshit that I have come across." He says New Zealand, Australia and Britain should press the American administration for a phased withdrawal. "Don't just let it drain on and on."
"The beneficiary countries of this kind of protracted effort in blood and treasure are countries like China [a major investor in Afghanistan].''
"Life's complicated - it's a very difficult neighbourhood. I think it's well past time to close it now.''
He's worried about Chinese muscle-flexing in the South China Sea and disturbed, on this visit, to learn of the scale of potential farm sales in the South Island and central North Island to Chinese interests, and the Chinese hunger for mining and infrastructure investments.
We meet at the original working man's cottage of Ponsonby playwright Dean Parker, a left-leaning friend from university days who is putting him up. Clad has a flight home to catch and is folding washing in the kitchen, breakfast dishes piled high. It's a world removed from Washington, where he breathes in the rarefied air of top policy makers and critical thinkers - but he has no airs and graces. And he has dossed in far worse joints.
"When you get into the inner sanctum you realise it's as silly on the inside as it is on the outside. There's about 10 people basically driving the country."
His mother Jane Elgar Clad brought the teenager and his three sisters to live in Hamilton in the early 60s after their father, a California judge, died in a light plane crash. The accident also claimed his uncle.
After finishing school, he took an arts degree at Victoria University where friends included the Kedgley twins Sue and Helen, playwrights Parker and Roger Hall, writer Peter Walker and lawyer turned crime writer Peter Graham. They joined a few Vietnam War protests and he caught up with some of them in Wellington last week.
"It was just a marvellous group.''
A few years later he completed a law degree at Auckland University and encountered future political figures in Phil Goff, Murray McCully and Stephen Franks.
"Every generation thinks it's incredibly amazing but there was something about that late 60s/early 70s [bunch] that ... kind of put its stamp on things."
A former lecturer at Victoria, Rod Alley, says Clad was an original thinker who could write well.
"There was a sense of not being prepared to put up with bullshit in terms of hierarchies and systems," says Alley, now a retired associate professor in political studies.
"It was quite a surprise for us when he finished up on what's seen as the dark side, working for the Bush Administration. But he was always genuinely independent."
His OE was a pointer to a life spent never far from trouble _ he went to Africa, worked for the US Peace Corps during civil war in Ethiopia, then crossed the continent overland with his wife.
"It was pretty crazy. I look back at these pictures. There I am, 101/2 stone, thin as a rake, big Pancho Villa moustache, with these two drunken Congolese soldiers ... "
Clad credits his New Zealand experience with his "what the hell - have a go" attitude.
He says this country is his turangawaewae (his mother and two sisters are buried here) and he still keeps a New Zealand passport.
After law school, he joined the Foreign Affairs Ministry and the fledgling diplomat's career was on course until someone altered a missive he'd penned. So he resigned.
He became a foreign correspondent for the Hong Kong-based Far Eastern Economic Review and covered Indonesia, Malaysia and the Philippines.
"We were one of the few papers at the time going into the grubby business of patronage, power and money ..."
A 1985 piece on trade relations between Malaysia and China, citing an allegedly confidential cabinet document, saw him fall foul of Malaysian Prime Minister Mahathir bin Mohamad. He pleaded guilty to breaching the Official Secrets Act, was fined M$10,000 and left Kuala Lumpur soon after. (The conviction, he notes, didn't stop the Pentagon hiring him years later.)
He told his editor Manila might offer a quieter life but, soon after he got there, the regime of President Ferdinand Marcos tumbled. "I arrived about 3 weeks before the big blow up. It was the kind of stuff that made my journalistic reputation - the snap election, going out with the communists ..."
He went on to cover the Iran-Iraq War, Afghanistan as the Soviets were withdrawing, demonstrations in India and Pakistan and civil war in Sri Lanka.
"We used to liken it to the morgue beat during the Al Capone era in Chicago. Lots of bang, bang, bang.
"One time, I was calling my daughter from Sri Lanka and there was this 'pap, pap, pap, pap' in the background and she said 'Daddy what's that?' And I said 'don't worry, it's just some guys shooting'.
"I called my [then] wife a couple of days later and she said 'your daughter's been crying, day and night. And I thought 'gosh, maybe it's time to stop being an adolescent'."
He went to Oxford and wrote a book, Business, Power and Money in Southeast Asia, which foresaw the 1997 Asian financial collapse. In Washington, he took up academic postings in Asian trade, finance and journalism; and became a professor at Georgetown University's school of foreign service.
His knowledge of Iraqi culture led to his first Defence Department appointment in 2002. He resigned a year later, unable to support the Bush administration's gung-ho approach in Iraq. But he remained an influential insider and was among those who worked to reverse US policy - belatedly convincing the Americans and Sunnis to join forces to oppose Al Qaeda.
A Vanity Fair story (May 2009) by David Rose details how Clad broke ranks at a 2004 summit to apologise to an Iraqi military leader who had been humiliated by US troops.
Clad returned to the Defence Department in 2007 as deputy assistant secretary for Asian and Pacific security. One of the 30 countries he was responsible for was New Zealand. The department was sprinkled with retired Navy brass and resentment of this country's anti-nuclear policy remained strong.
"That was another thing that was strange. I would say 'look guys, I'm the Kiwi mole. I think this ostracism of New Zealand is ridiculous'.
"I kept expecting somebody to say, 'What are you doing here? You're a former New Zealand diplomat - we can't have you in this job'."
His rapport with Defence Minister Phil Goff was an asset. They knew each other from university and met again in East Timor in 1999, as international observers ahead of the UN-sponsored referendum.
Goff recalls a hair-raising escape when anti-independence militia came looking for them and Clad's Javanese proved useful.
"I was very pleased to find he got the [Pentagon] appointment," says Goff. "He brought an American perspective but he had this soft spot for New Zealand. He understood where we were coming from."
Clad suggested holding safety-at-sea exercises to get around the US ban on military exercises.
"Personally, I was in favour of going to the major parties and saying what happened in the mid-80s was consistent with the nervousness of the times and New Zealand's budding nationalism," he says. "Because Americans never understood that - they just thought it was a bunch of lotus eaters saying 'up yours'. I was saying 'no, it's nationalism'."
It still took time to heal the breach.
"Inside a huge bureaucracy, nothing's easy. You'd plug away and there'd always be one guy who'd say 'oh, why?' - and everything stops.
"I'm very pleased with the work we were able to do."
He resigned from the US Government last November to do advisory and consultancy work. He helps energy companies on defence and security challenges; ongoing interests include unresolved border disputes and the Arab Spring.
He's working on a book and documentary about borders and another book on Iraq.
He has two adult children (another died in infancy) from his first marriage and took in the son of one of his sisters, Michele, who died in Wellington in 1990. His second wife, Aurora Medina, works at the World Bank in Washington and they have a 16-year-old son.
He is an affiliate of a Chinese foreign ministry research institute. Yet he is very concerned about China's recent expansionist foreign policy - particularly its claim to his old stomping ground, the South China Sea.
"China's growth since 1990 has been phenomenal so room has to be made and you can't hang on to everything. But there are ways to conduct oneself if you are an emerging power ... broadly send the right message and don't alarm your neighbours.
"If you've got a big emerging power that kind of crowds you out, or crowds out people who might want to do business there, then it's not a good outcome.
"That's why other countries want the US to be there."
"The good news is that, whatever the Chinese tell you, there's not unanimity in China about this policy of aggressive assertiveness.
"China is not about to invade anybody - that's just not how it works. But it's that cramping, that closing down of space.
"So it's a matter of not getting in the game of alliances against China, but being pretty clear about what's going on. That means [New Zealand] thinking with Australia about those issues - and not just how much you spend on defence.
"I think there's been a great deal of wishful thinking around the world about what the Chinese were doing. I think it's a temporary phase of assertiveness which is linked with their political transition, with their sudden wealth with their acquisition capability. But it's real. It's non-ideological in a sense, its very cultural. Han Chinese chauvinism is in play.
"They really feel their place in the sun was displaced by western powers and now they're back. Great, welcome back - just don't pick up the mannerisms of an imperial power. That's kind of how I see it.''
Across borders - James C. Clad
Born: Pasadena, LA County, 1947.
Emigrated: To New Zealand, 1964.
NZ Diplomat: Ministry of Foreign Affairs, mid 70s- early 80s.
Journalist: Far Eastern Economic Review, 1980s
Lawyer: Trained as barrister at Canadian and NZ universities
Academic: Oxford University, Columbia Journalism School, Georgetown University (DC), Carnegie Endowment, National Defence University.
US Diplomat: Defence Dept 2002-03; Senior Executive Service 2002-10; Defence Dept 2007-2009.
Gongs: US Secretary of Defence Exceptional Public Service Award (2009); Member of the NZ Order of Merit (2011).
Current: Consulting posts include Jane's Information Group; Cambridge Energy Research Associates; Avascent International; Centre for US Naval Analyses.