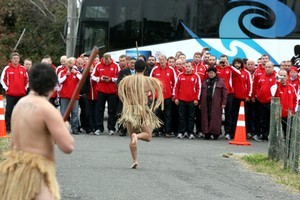 The year after the "Rose Revolution" in Georgia, the new Government sacked the entire traffic police force - all 18,000 officers - and the traffic improved.
Georgian Prime Minister Nikoloz ("Nika") Gilauri from his hotel in Auckland speaks about it with a sense of pride at the sheer sweep of it.
The police went on to the streets to protest, he said, but lasted only two hours before realising they had no public support.
The sackings occurred in April 2004, a year after the "Rose Revolution."
That according to Gilauri was when Georgians en masse from all sides of political spectrum took to the streets in protest to end corruption that had remained after gaining independence in 1991 in the collapse of the Soviet Union.
"What happened in November 2003, the population came out in the streets demanding the resignation of [Eduard] Shevardnadze who was president then with only one single reason - to get rid of corruption. It wasn't pro-right or pro-left or pro-centrist.
"The population didn't care about that.the population cared we were force-fed with corruption."
A new generation of leaders took over, with President Mikhail Saakashvili just 37 at the time and Gilauri (starting as Energy Minister) aged just 29.
The sweeping reforms have led to an impressive record in a very short time for reducing corruption in some of the world's standard measures.
The World Bank had previously rated Georgia 112th in the world on its survey measuring the ease of doing business. Now it is 12th.
A Transparency International survey on the number of people who had recently paid bribes put Georgia at 3 per cent, the same as the European Union average and better than the United States.
A survey by the same organisation last year put Georgia in a league of its own with 78 per cent of its citizens reporting an improvement in the fight against corruption.
"I think that is the most interesting story that Georgia can export," said Gilauri. "We would like to export our reforms."
He and Foreign Minister Grigol Vashadze were in New Zealand for the Rugby World Cup from which Georgia has now been eliminated.
Vashadze said the cup has had enormous coverage in Georgia.
"It's a huge deal. It's a huge deal," he said.
The game was overtaking soccer as the most popular team sport he believed.
The match schedule avoided any clash between Georgia and Russia.
The two countries severed diplomatic ties in 2008 when Georgia responded with artillery to a breakaway by South Ossetia and Abkharzia, and Russia invaded them to propel Georgia.
Their free trade agreement is now in abeyance and Georgia is blocking Russia's entry to the World Trade Organisation.
Gilauri says the trade embargo by Russia had actually caused Georgia to diversify its economy and it's now is the"perfect position" of being dependent on no single country, and growth rates of 6 to 7 per cent.
Gilauri said that the reforms in Georgia, painful though they were, had been its biggest achievement"and it scares Russian top politicians."
He went as far as saying that one of the reasons for Russian aggression towards Georgia in 2008 was to show the Russian population that Georgia's type of politics - "pro Nato, pro Europe, pro democracy, anti-corruption" - could not be successful.
"And we proved them to be wrong."
Gilauri believes there is a formula to be followed for successful reform.
"You need a leader who is clean himself, and who has very much determination to fight corruption.
"You need a team who is capable.
"You need the population's huge support. If you have these three, then it's do-able."
President Saakashvili, with a huge mandate, led the reforms. His popularity took a big hit but has since recovered said Gilauri.
As well as mass sackings of police, the other measure according to The Economist, included abolishing entire ministries, sacking 30,000 bureaucrats, slashing red tape and privatising everything from hotels to hospitals and used the money to build new roads.
They have also just made English compulsory in schools.
According to foreign minister Vashadze, many countries are making a trail to Georgia's door to find out about their reforms including Egypt in the wake of the Arab Spring.
"We are prepared to share our experience, to share packages of our legislation, to train their law enforcing officers in our academies, and other Arab countries are starting to show interest in our reforms too."
"Everybody knows that until 2003, Georgia was miserably failed state, sick with corruption, a place where there was not a sign of state presence in any sphere of human life, no health care, no normal education, no protection, no effective and functioning legal system and above all, law enforcing agencies and police were the biggest criminal band actually present in our country.
"We had to dismantle all this and assemble everything from the beginning."
He said there had been no other option. "It was do or die."
"I dont want to create an illusion that we've solved all the problems, that it's a paradise, or we are in any way where , for example, New Zealand is when it comes to protection of our citizens, economic or political, but we are trying very hard."
Vashadze said there was a great deal more potential in the bilateral relationship - English language teachers, agricultural expertise, hydro energy (Georgia has 26,000 rivers), tourism expertise, rugby expertise and trade.
Because Georgia has free trade agreements with all the post-Soviet countries and Turkey, it markets itself not as a country with 4.5 million people but at the "gateway" to 280 million people.
The other area in which New Zealand has worked with Georgia is in the International Security Assistance Force in Afghanistan.
Georgia has about 1000 soldiers - more per capita than any other member of the coalition - in Helmand province where the fighting is quite intense and has had 10 soldiers die.
It is preparing right now to add another battalion of 700.
Asked why it wanted to send another battalion, Vashadze said: "if you look at the map you will discover that Georgia is much closer to Afghanistan that New Zealand."
"When you are speaking about the broader political region where Georgia is placed, Afghanistan, the Middle East is definitely part of that region so we would like to have security, peace and stability around us."