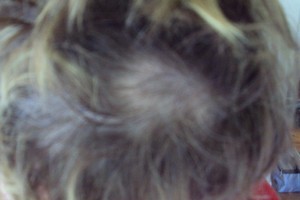 Another woman has been left with bald patches after having her hair done at a West Auckland salon with a history of similar incidents.
Alison O'Callaghan paid $50 to have her hair lightened with foils at the Hair Co salon in Lynn Mall shopping centre while visiting her mother in Auckland on 26 July.
Afterwards her hair was damaged and "straw-like", but it wasn't until five weeks later that her husband noticed three bald patches about 3cm in diameter on her head.
Mrs O'Callaghan phoned the salon and was told by a staff member to "put two eggs on my head" and that store management would contact her.
After no contact she phoned the salon and on Wednesday night was called by Joseph Brooks, whose management company is responsible for Hair Co & Beauty Co's staff.
Mr Brooks apologised and has refunded the cost of her treatment.
In May the Herald reported that another woman, Kirstine Morris, had her hair fall out in clumps after she had it chemically straightened at Hair Co Lynn Mall.
She was promised compensation by Mr Brooks, but said she had received nothing and he had been uncontactable since.
Other women have been injured because of treatments at the salon's sister shop Beauty Co, including one who suffered burnt eyeballs after an unsupervised eyelash tint.
Health and safety inspectors from the Department of Labour visited the salons but found "no serious harm occurred" and there was no cause for further action.
However, the Herald has spoken to a couple who bought a salon from Mr Brooks and found products that were two years past expiration dates.
The couple, who asked not to be identified, bought the South Auckland salon as a managed business and were promised a steady flow of income by Mr Brooks' agent Robin Harris.
But after payments dried up staff told them they saw management only when takings were collected.
New product from Schwarzkopf cost $10,000: "we had to drive the old stuff in a trailer to the tip".
Staff told the couple that Mr Brooks imported products by the container-load for $1 a tube.
The couple said a customer's hair fell out soon after they bought the business.
Steve, who declined to have his full name published, bought a salon in Manukau from Mr Brooks for about $350,000 through Mr Harris three years ago. He said when payments stopped he found the salon to be in a "shambles".
"Staff weren't getting paid, there were drug problems ... PAYE, GST - nothing was being paid."
He said the stress cost him his marriage and $250,000: "We gave [the salon] away".
But Mr Brooks denied products at his salons were expired: "choose any shop, any time you want, go and see if the stock is expired or not".
He said people had bought five salons from him and other buyers kept asking him for more, which showed they were good investments.
The Hair Co and Beauty Co Lynn Mall salons are currently advertised as fully managed "cash cows", with Mr Harris the agent.
Average returns of more than $28,500 per month are promised for a price of $660,000.
Mr Harris said he had sold 19 salons for Mr Brooks and his associates under different brands in New Zealand, Melbourne and Brisbane.
He said the one or two bad experiences buyers had were connected to Mark Adams, who was in charge of the management contracts for Mr Brooks' salons.
Mr Adams had "disappeared" to Australia, which resulted in management problems, he said.
Joseph Brooks' directorship of Hairco New Zealand Ltd ceased in April last year and his business associate Ramona "Liz" Jungwirth is now director.
Ministry of Economic Development records reveal Joseph Ronnie Brooks was declared bankrupt by creditor petition by the High Court at Christchurch on June 28, 2010.
Mr Brooks strenuously denied being bankrupt when contacted by the Weekend Herald, and said he was not Joseph Ronnie Brooks and that MED officials had confirmed that.