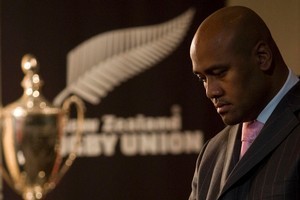 The kidney New Zealand rugby legend Jonah Lomu received in a transplant from ZM Radio DJ Grant Kereama in 2004 is failing him, and it's likely he will need another transplant.
The seriousness of his condition was revealed by Lomu and his wife Nadene in an exclusive interview with the New Zealand Woman's Weekly, which went on sale this morning.
In the five page interview Lomu details how his recent problems caught him by surprise, and quickly developed into a life-threatening situation.
"It just went pear-shaped one afternoon," Lomu told theNew Zealand Woman's Weekly.
"I thought it was just a cold or food poisoning. I couldn't put my finger on it.
"All I knew was that I didn't feel well and I couldn't hold any food down for about 10 days. I was basically starving."
Lomu told the magazine he was hot, cold and shivering.
"Last Friday, the 23rd (of September), I was just about to leave for a function and I crashed.
"My kidney was failing and my body had become so toxic it started to shut down," he said.
Despite many tests it wasn't until last Wednesday that he and wife Nadene received any answers about what was happening.
Nadene said they were hoping the results would tell them whether Lomu needed another transplant.
"They've said there's a very slim chance this kidney may survive. So for now Jonah's having dialysis every day and a load of other treatments to see if it can be revived."
Lomu told the magazine he would fight against the latest setback and said he was detrmined to make it to the Rugby World Cup final (even if he has to borrow an ambulance and drive it into the Eden Park tunnel) - but needed his kidney to fight also.
"My kidney needs a rest, then it needs to wake up and start working.
"It needs to fight."
Lomu said the hardest part was not being at home with his wife and two boys.
"Our lives have been put on hold. We were going to go back to France in December, but nothing's going to happen until this is sorted out."
Meanwhile it's also been revealed today that another former All Black is in hospital with kidney issues.
Joeli Vidiri told the Herald on Sunday from Middlemore Hospital that he was admitted last Sunday for a check-up.
Vidiri was forced to retire from rugby in 2001 after being diagnosed with kidney disease.
He said Lomu should think twice before taking part in a boxing charity event.
"Life is not that long, (Jonah) has to be happy with his life and do what he loves but I want to say to him to take it easy and go step-by-step, day-by-day," Vidiri said.