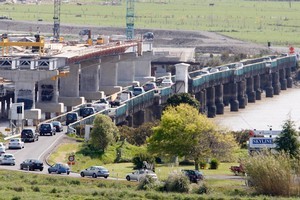 Holidaymakers could be cruising over a new Kopu Bridge before Christmas this year.
The bridge replacement project at the notorious bottleneck is running ahead of schedule and could see the 580m long bridge open in time for the summer holidays.
The bridge frameworks are completed, and many settlement dates have been met said New Zealand Transport Agency project services manager Bryce Carter.
He said the weather and settlement dates were the key factors influencing whether the project would be finished before or after Christmas this year.
The bridge stretches across the Waihou River, near Thames, and is a key connection for travellers making their way from Auckland to the Coromandel Peninsula which sees traffic levels swell along the road in summer months.
The final section of concrete deck on the new two-lane bridge was poured on Monday.
Workers are now finishing end works such as barrier and railing construction, as well as focusing on constructing the approach roads he said.
Mr Carter said the construction of the bridge had gone well so far.
"To build the bridge, the contractor has poured 13,200 tonnes of concrete or 1100 truckloads. While that sounds a lot, the bridge is 580m long and is actually a lot lighter than others of a similar size.
"The bridge is founded on very soft subsoils, so we needed to minimise its weight. We achieved this by using lighter steel bridge beams instead of standard concrete beams."
Mr Carter said the project was ahead of schedule, with completion originally expected in May 2012.
The Kopu Bridge Replacement project was launched by Prime Minister John Key in July 2009 as part of the government's $500 million Jobs and Growth Plan. It will reduce travel times for all road users and is expected to eliminate bridge queues.
- APNZ