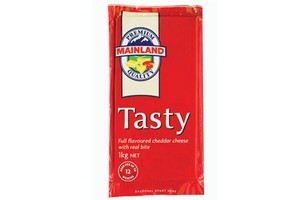 Fonterra are recalling several batches of Mainland cheese after a metal fragment was found in one pack.
Dominic Quin, general manager of marketing and inovation at the dairy giant, said there have been no reports of anyone being injured or becoming ill.
"The voluntary recall is a precautionary measure as there can be no compromise when it comes to product quality or the health and safety of our consumers."
Fonterra have placed food recall notices have been placed in daily newspapers across New Zealand this week and authorities have been notified, but urged people to advise family or friends who may have bought this product of the recall.
Fonterra warned customers should not consume the affected products but return them to the point of purchase with their original packaging (including the batch code) for a full refund.
Mainland Cheese recall:
Mainland Tasty Block 500g Best Before date of 28 March 2012 (Batches JI and JE)
Mainland Tasty Block 700g Best before date of 28 April 2012 (Batch JF)
Mainland Tasty Block 1kg Best before date of 28 December 2011 (Batch BD)
Mainland Tasty Block 1kg Best before date of 28 January 2012 (Batches AB, AC and AD)
Mainland Tasty Block 1kg Best before date of 28 February 2012 (Batch BF)
- HERALD ONLINE