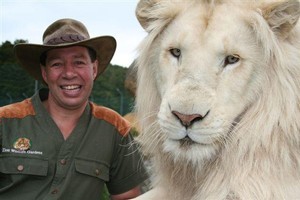 Lion Man Craig Busch, who's taking his mother to the High Court to seek $4000 for previous court costs he says is owed to him. Photo / supplied
The Lion Man and his mother are set to go head-to-head in the High Court.
Craig Busch has applied to have Zion Wildlife Park director Patricia Busch declared bankrupt for failing to pay almost $4000 for previous court costs owed to him.
Mrs Busch has entered a counter-claim through her lawyer, saying she gave financial support - of several million dollars - to Mr Busch's companies while the park was under his ownership.
A defended hearing has been set for next month.
- Newstalk ZB