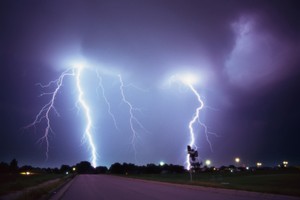 Dark skies were pierced by more than 11,000 lightning strikes in the upper North Island today during one of the most impressive thunderstorms in more than four years.
One weather service said the storm compared with one that crossed over the region in 2007 in which a farmer died after being hit by lightning.
In one hour this afternoon, almost every part of Northland was affected as more than 2000 lightning bolts hit the region during the thunderstorm.
Weather services warned of a risk of tornadoes and flash-floods but the area escaped unscathed, with no reports of damage.
Gary Nicholson, from Whatuwhiwhi in the Far North, where the storm first made landfall, said the thunderstorm was the most impressive he had seen in the 10 years he had lived in the area.
"I'd never seen lightning like that before. You very rarely see forked lightning. It was very impressive and quite exciting."
Mr Nicholson said the skies got dark just before the storm hit the area, then heavy rain and lightning strikes began.
At 2pm, one Whangarei resident reported the "heavens have opened" and there were loud claps of thunder.
Kaipara Harbour resident Rachel Kuljish said the thunder was so loud it shook her house.
"It was pretty intense ... I don't think I've ever seen anything like that before. It was very, very loud and was right above us for a while," she said.
"We get thunderstorms quite a lot around here, but not like that one. It was pretty exciting really."
Weather Watch chief analyst Philip Duncan said the storm was the most impressive Northland had seen since 2007.
"It was pretty spectacular. It was a very, very active storm, unlike what we've seen for a very long time."
The thunderstorm was centred between Dargaville and Kaitaia before it moved off to the east in the early evening.
Mr Duncan said there were no reports of tornadoes but it was likely small ones struck in unpopulated areas where there was no one to see them.
The front inched towards Auckland but only grazed northern parts of the area. Thunder was heard in some parts of the city.