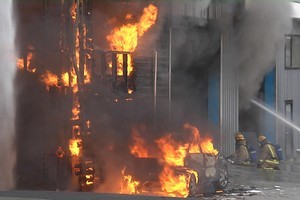 Firefighters battled a blaze in a mechanical workshop in West Auckland this evening.
Nine fire units were called to the mechanical workshop and factory in Ranui at 5.23pm.
Fire Service northern communications shift commander Scott Osmond said the fire was in the property's front two units.
He said "multiple deliveries of water''were needed to bring it under control.
It was not believed to be suspicious. There were no reported injuries.

Police blocked vehicle access to the one-way street, said spokesman Senior Sergeant Matt Rogers.
"People have been asked to move out of the way so there is space for fire engines to do their job.
"They haven't asked people to evacuate but they're stopping people coming in and getting people out of the way.''
Police were monitoring traffic flows on the adjoining main thoroughfare, Swanson Rd.
- APNZ