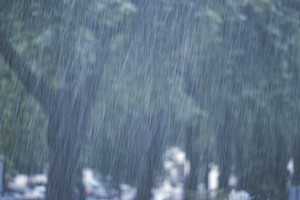 Tornadoes could strike as a storm system carrying hundreds of severe thunderstorms hits the upper North Island today, forecasters say.
Metservice this morning warned of thunder, lightning and strong winds in areas north of the Harbour Bridge this afternoon and evening.
Weatherwatch.co.nz said the weather system was causing hundreds of thunderstorms, with the majority focused between Auckland and Whangarei.
Its lightning tracker had detected 1310 lightning strikes in one hour this morning.
Forecaster Philip Duncan said the system could damaging tornadoes of a similar size to one that struck the North Shore of Auckland in May.
"This is one of the most active thunder bands we've seen in some time"
Mr Duncan said the band of torrential rain and thunderstorms was 150kms west of Piha in West Auckland at about 10:45am.
Metservice weather ambassador Bob McDavitt said upper North Island areas would be hit by heavy rain, hail and squally winds with gusts 110km/h or more.
There was a possibility of small tornadoes striking localised areas, he said.
Strong winds this afternoon could cause structural damage to trees and powerlines and make driving hazardous, Metservice said.
- HERALD ONLINE STAFF