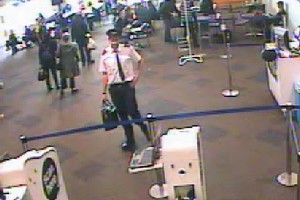 Police are hunting a mystery man who wore a fake pilot's uniform to try to fool staff at Auckland Airport into letting him into restricted areas.
At a time when security staff are on high alert during the Rugby World Cup, the man's efforts to gain access to "airside" areas leading to the runway and aircraft have been described by the police as a "significant concern".
His authentic-looking uniform included a pilot's cap with a silver winged badge, epaulets and gold bands on the shoulders of his shirt and a large black briefcase.
The fake pilot bid is reminiscent of the movie Catch Me If You Can, based on the true story of American conman Frank Abagnale Jnr, who posed as a pilot for months while being chased by the FBI.
Detective Superintendent Andy Lovelock said the man walked into Auckland's domestic terminal about 2.30pm on Saturday. It is understood he went to an Air New Zealand counter and tried to gain access to the restricted area.
"As a result of being challenged by ground staff, the man then left the airport terminal building and was seen to get into the front passenger's seat of a vehicle described as being a black Toyota Hi-Ace van with tinted windows."
The man, a European, was more than 180cm tall and in his late 20s or early 30s with a medium build, brown hair and tattoos on his forearms.
"Attempted breaches of airport security are taken very seriously, and we are eager to identify this person," Mr Lovelock said.
"The effort to which this individual has gone to access the restricted airside area of the Auckland Airport is of significant concern."
Air New Zealand refused to comment last night.
Aviation expert Peter Clark said anyone wanting to gain airside access must have Civil Aviation Authority identification.
Pilots must also carry their licence and photo identification.
"I would say just having a pilot's uniform on wouldn't necessarily get you airside access at all, - especially at Auckland Airport," he said.
"You have to look at his motivation - if it's a prank or if he's trying to do something more sinister."
Mr Clark said there was always someone who "pushed the limit" at airports.
"But there are enough procedures that nothing would go further. If he didn't get through, it would indicate that security services at our major airports are very good."
An Aviation Security Service spokeswoman declined to comment on the fake pilot's bid to breach security, and referred all questions to the police.
Asked whether such attempts were common, she said: "With the Rugby World Cup on, we are in a much higher state of security."
Anyone with information about the man should contact Counties Manukau police on (09) 259-0600 or call Crimestoppers anonymously on 0800-555-111.
CAN YOU IDENTIFY THIS MAN?
* Male European
* Height - over 180 cm
* Age - late 20s to early 30s
* Hair - brown
* Markings - distinctive tattoos on his forearms
* Clothes - white shirt, dark tie, blue trousers, dark shoes, dark cap with silver winged badge, epaulets on his shoulders with gold bands
* Carrying - a large black briefcase.You have to look at his motivation - if it's a prank or if he's trying to do something more sinister.