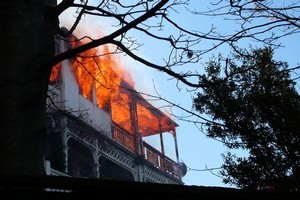 All occupants of a derelict central Wellington house gutted by an inferno on Wednesday have been accounted for, police say.
Demolition crews today stabilised the large wooden house on Allenby Terrace in after it caught fire about 2pm on Wednesday.
A Wellington police spokeswoman said several homeless people known to frequent the house had been tracked down and there was nothing to suggest anyone had been in it when it went up in flames.
However, asbestos had been found at the scene and investigators could not confirm until this afternoon that there were no bodies in the rubble.
Detective Senior Sergeant Donna Howard said all known occupants had been accounted for.
The cause of the blaze was still unknown and police were treating it as suspicious.
Fire safety officer Clive Hutchings said he would not want to hazard a guess about the cause of the fire without seeing the site, but because the house was abandoned it had not been connected to power or gas.
"It's more than likely that the fire had a human hand, whether accidental or deliberate, in going,'' he said.
"I'm not really expecting to find that the fire was caused by a short circuit -it's probably going to be that it's had a helping hand somewhere along the line.''
Mr Hutchings said the building had been "burned out once'' so fire safety officers would be looking to see if any new areas had been burned out.
Zachariah Wilton, then 19, was jailed last February for two years and three months after deliberately setting the house alight while it was still occupied in 2009.
- APNZ