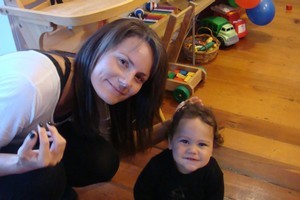 An Auckland mother believes she was misled into regularly cleaning her son's face with baby wipes that have now been shown to contain a banned preservative.
"I'm fuming right now," Victoria Preston, of Grey Lynn, said yesterday.
Progressive Enterprises - owner of the Countdown, Woolworths and Foodtown supermarkets - on Wednesday pulled several brands of wipes for babies or toddlers.
Their removal follows Herald inquiries - sparked by a new book by Wendyl Nissen - about their containing iodopropynyl butylcarbamate (IPBC).
The products withdrawn included Woolworths Homebrand, Select Scented Baby Wipes and Precious Flushable Wipes - and IPBC-labelled Silk Quality Wipes, the importer of which says they don't actually contain the chemical.
Rival Foodstuffs Auckland - which includes Pak'nSave and New World - has also withdrawn several Precious and Silk products.
Both supermarket groups offered refunds on withdrawn products. Both also sell other wipes without IPBC.
Several parents posted on Facebook yesterday that they were horrified to learn the wipes they had used on children contained the preservative.
Miss Preston said she often wiped her 13-month-old son Metzger Tupou's face with Select "fragrance-free" wipes and wasn't aware of any harm resulting but she was angry at the breach of trust by the suppliers.
"I'm particularly annoyed that on the packet it states in bullet points, 'gentle enough for baby's face and hands, dermatologically tested' ..."
Miss Preston said the local Foodtown agreed to refund her but she would have to dig out the receipts.
She made her own baby wipes - to the recipe of Nissen, whose latest book raises concerns about IPBC and other chemicals in baby cosmetics - for use at home, but prefers to use commercial wipes when she is out with Metzger.
The Health Ministry says baby wipes with IPBC "may pose a public health risk because of their potential sensitising and allergenic effects".
The Environmental Protection Authority said New Zealand cosmetic standards listed IPBC as not to be used in preparations for children under 3, except below certain levels in bath products, shower gels and shampoo.
Chris Potter, a director of Silk brand importer Global Products, has asked supermarkets to withdraw its IPBC-labelled baby wipes so IPBC can be removed from its list of ingredients.
He said Silk's wipes had not contained IPBC since March.