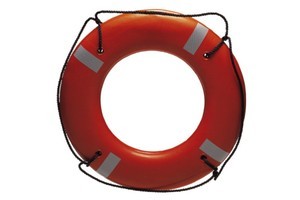 Bouncers are being forced to act as lifesavers for drunken revellers along Napier's waterfront bar strip.
A surge in the number of drunk people slipping or stripping before ending up in the briny along the West Quay bar strip at Ahuriri's inner harbour has prompted a joint initiative between police, publicans and the Napier City Council to provide bars with flotation devices.
Sergeant Nigel Formosa of Napier police said incidents had increased in the past six months, forcing bouncers to act as lifeguards.
"The real fear is that someone will drown," Mr Formosa said.
"Many people being pulled out of the water were in no state to be able to swim, and that includes those who jumped in after them. We often end up with several drunk people in the water at one time, which is a major concern for everyone."
The city council's Safer Communities Committee has funded horseshoe flotation rings for each bar which can be thrown into the sea as a temporary aid before help arrives.
Mr Formosa said he had seen incidents himself.
"Some people strip off for a dip, some jump straight in, while others are just accidents.
"Recently I saw two people climb their way back up from the harbour, both with bleeding head injuries. There are lots of little things you can hit your head on in that area. Another girl we saw was so tired after falling in she couldn't even lift herself out of the water. Bar staff have had to jump in too, and they're not qualified to do so."
One bouncer from The Thirsty Whale bar who rescued a woman had to be admitted to hospital with pneumonia.
The bar's owner, Keith Price, said he welcomed the initiative. "I'm fully supportive," he said. "If we can save a life by stocking these devices then that's a great thing."
Police said the initiative was a pre-emptive strike on drinkers before summer.
"Our message to people is to have a good time but moderate your drinking, be mindful of your safety and respect others.
"We didn't time this to coincide with the World Cup, but it's good as we're expecting more people down here."
-APNZ
For more articles from this region, go to Hawkes Bay Today