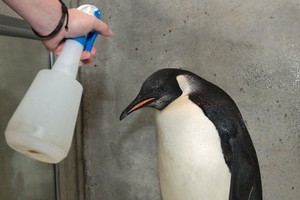 Happy Feet has stopped transmitting.
The Emperor Penguin was released into the Southern Ocean eight days ago with a transmitter glued to him, which has been relaying his position back to scientists in New Zealand.
However, not a peep has been heard since Friday.
Sirtrack, which is monitoring Happy Feet's progress, says this indicates the satellite transmitter has not broken the surface of the water since that time.
Sirtrack engineers have confirmed the satellite transmitter was operating as expected at the last transmission received.
"This leads to the conclusion that either the satellite transmitter has detached or an unknown event has prevented Happy Feet from resurfacing."
The transmitter was designed to detach from the penguin when he moults in the new year.
"In any wildlife research project it is accepted that there may be a premature detachment of the satellite transmitter," said Sirtrack.
A statement on Sirtrack's website says there is a small chance that solar flares at the earth's poles have interrupted the transmissions from reaching the satellites, but data has been received from other satellite transmitters located in New Zealand.
Sirtrack has contacted the company that operates the satellites, and expects a response from them by mid-week.
- APNZ