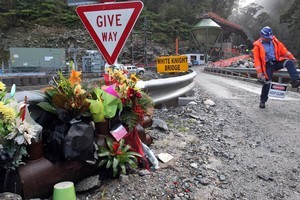 A phone system that failed in the aftermath of a deadly explosion in the Pike River mine was prone to breakdown, a Royal Commission of Inquiry into the disaster has heard.
Survivor Daniel Rockhouse initially got through to an answerphone when he called to report an explosion at the Pike River mine on November 19.
He found a phone at a fresh air base was not working during his harrowing walk back to the surface.
Former control room operator Daniel Duggan, who lost his brother Christopher Duggan at Pike River, today told communications underground had long been unreliable.
"Reliability of the phones were crap underground... quite often they'd break down."
"It wasn't uncommon for a phone to not work. For someone to go to it and it to not work.
The phone systems were not very good in my opinion."
Mr Duggan said he had called a meeting with Pike River management to discuss the phone system and other issues before the explosion last November.
Control room operators at Pike River did not receive much training and had to learn on the job, he said.
"There was no real structure to be honest... we basically didn't get any real training."
Pike River 111 distress call
The inquiry earlier heard a 111 call made in the aftermath of the deadly explosion at the West Coast mine.
Mr Duggan told emergency services to have a helicopter and ambulances ready to deal with a "very major incident".
His call came after all communication with the 29 men in the mine had been lost for about an hour.
"We haven't heard from no-one for almost an hour so far... It's possibly a very major incident," he told the 111 operator.
"We just don't know how bad this is. It could be the worst, you know... It's not going to be good I tell you that. It's been an hour."
As Mr Duggan made that call, the company's phone lines started getting clogged with hundreds of calls from international media including Sky News in London and CNN in the US.
Counsel for the Royal Commission then asked him why survivor Daniel Rockhouse got an answer phone during his first attempt to call out of the Pike River mine.
Mr Duggan said he did not know and those questions should be directed to the person who set up the phone system.
He also spoke of his frustration trying to contact miners underground after the first explosion at the mine.
"I had like the whole three phones. Ringing underground. Trying to get hold of any phone underground."
After a contractor told him about a "strange smell" in the air, Mr Duggan asked mine manager Doug White whether he should notify mines rescue about the incident.
He was told "we won't go there yet", the inquiry heard.
Mines rescue were notified about the explosion before Mr Duggan made the 111 call to emergency services.
Safety manager raised concerns
Earlier, the inquiry heard a safety manager had repeatedly raised concerns about a lack of evacuation vehicles and poorly organised firefighting equipment at the Pike River mine.
Former safety and training manager Adrian Couchman gave evidence to the Royal Commission of Inquiry into the Pike River mine disaster this morning.
In a letter sent to company bosses before the explosion, he noted miners' concern at often having to walk out of the mine because a 'drift runner' was not available.
It would take about 10 minutes to leave the mine using the drift runner and about 30 minutes on foot, Mr Couchman said.
The majority of self-rescuers available for miners to use in the aftermath of an explosion contained 30 minutes of oxygen.
The inquiry heard Mr Couchman had also repeatedly raised concerns about firefighting equipment being left tangled in the mine.
He had taken photos of tangled hoses during a visit to the mine out of frustration at nothing being done about the problem.
"I had gotten so frustrated with the fact the fire hoses weren't being maintained and that a lot of the issues I was identifying weren't being addressed so I took it upon myself to take photos to make the point."
Mr Couchman said his last visit to the Pike River mine was on November 18 - the day before it was hit by the first explosion.
He had counted the number of self rescuers in boxes at the head of a shaft into the mine "out of habit". His rough count showed there were 108 self rescuers in the mine.
Transcript of Pike River blast emergency call
CALL TAKER: 7698410. Okay. Tell me exactly whats happened?
CALLER: Okay. We suspect a major incident underground, possible explosion. We may need as much emergency care as possible, ambulance and probably helicopter on standby, cause there are a lot of people underground at the moment and we arent sure..
CALL TAKER: ... How many people roughly are underground?
CALLER: Roughly, youre probably looking at least 25 to 30 people and, (indecipherable), no ones accounted ...
CALL TAKER: ... 25 to 30 people. CALLER: ... for at this stage.
CALL TAKER: So what makes you think theres been an explosion? CALLER: Well, (indecipherable), ah, we, we lost power underground.
CALL TAKER: Oh okay.
CALLER: Communications and normally underground all the fans will go out and youll get a call from underground people saying that urn, you know people...
CALL TAKER: ...But... CALLER: ... say look I ...
CALL TAKER: ... but you havent heard from anybody ...? CALLER: We havent heard from ...
CALL TAKER: ... underground?
CALLER: ... no one for about, for about almost an hour now.
We sent up, we sent somebody up in a um, a vehicle they got up so far up and then they rang us back on a phone and told us they suspect an explosion.
So hes come back out, weve heard from nobody so its possibly a very major incident.
CALL TAKER: Okay, so weve got a major incident on the hands, on your hands there.
CALLER: Yeah.
CALL TAKER: So whats your name?
CALLER: Ah, Daniel Duggan.
CALL TAKER: Okay.
CALLER: Service Controller.
CALL TAKER: Alright, now I just want to get as much information as possible.
CALLER: Yeah no I understand yeah.
CALL TAKER: From whats going. So you want the heli on standby and as much ...?
CALLER: ... I think so yeah I, like I, Im talking to the manager he said yeah have it on standby anyway look we just dont know how bad this is, it could be the worst you know.
CALL TAKER: So it could be really really bad.
CALLER: Oh it..
CALL TAKER: ... But it could be ...? CALLER: ... it could it, it, yeah ..
CALL TAKER: ... it could be, (indecipherable)? CALLER: ... its not going to be good Ill tell you that.