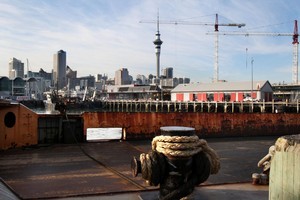 The second night of Rugby World Cup celebrations in Auckland was relatively quiet and drama-free, following Friday's opening night which was marred by transport woes.
On Friday, the public transport system was gridlocked from about midday in the CBD as 200,000 people converged on Rugby World Cup opening celebrations.
Delays of up to two hours at Britomart caused hundreds of people to miss the opening ceremony.
However, last night's Auckland-based game between France and Japan at the North Harbour stadium was much more subdued.
About 7000 fans travelled by bus to the game, and just under 11,000 travelled home by bus without problems, an Auckland Council spokesman said.
Seven people were evicted from the game, but police made no arrests.
Auckland train operator Veolia Transport said all delays on Auckland's transport system on Friday night was the result of over crowding.
"We had planned for twice the number of customers travelling on a normal day and designed timetables based on the maximum capacity of our train fleet, however four times the usual number of customers travelled,'' Veolia spokeswoman Michelle Roach said.
There was no major mechanical, infrastructure or staffing issues - all delays were caused by capacity issues, she said.
The problem which caused the greatest delay on the trains was people pushing the emergency stop button.
"There were five customers that required emergency medical assistance, some of them serious. Services were delayed while medical treatment was sought for customers, trains made safe and emergency brake systems reset.''
A series of safety incidents also occurred, including people riding on the outside of a train, people on the track, customers trying to board moving trains, and fights.
Veolia would conduct a full review of its operations to improve its services for the rest of the tournament.
However, it did not anticipate the same amount of people travelling to the city and stadium for other Rugby World Cup games as was seen on Friday.
Auckland Mayor Len Brown has said he would consider compensation to ticket holders left out of pocket.
He said Friday night was not satisfactory and was seeking assurances Auckland will have a reliable service for the rest of the Rugby World Cup.
- APNZ

- APNZ