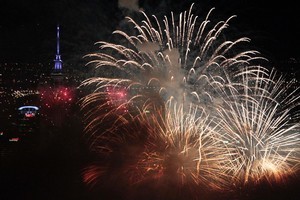 They loved the drama, the rumble of the haka and that young man in red and black - through the world's eyes, our opening ceremony was ka pai.
Media reports from around the globe bandied about words like spine-tingling, mesmerising, spectacular and dazzling to describe the much anticipated opening event.
Toby Manhire described the ceremony in the British paper the Guardian as ticking "all the boxes" but poked fun at the huge inflatable rugby ball which gobbled up precious space near "party central".
The Telegraph's Paul Ackford described the All Blacks v Tongan game as "dull, dull, dull" and said the atmosphere at Eden Park was "subdued and downbeat".
Australian paper the Daily Mail described the $9 million ceremony as "joyous" and "dazzling".
A writer at the Irish Independent sourly dubbed the ceremony as a self-indulgent haka-fest.
Peter Bills from the Independent said the opening ceremony was worth the wait but the rugby wasn't.
The Sun slammed the choice of nations to kick off the curtainraiser. Former English captain Will Carling wrote that the "All Blacks-Tonga affair was a horrible anti-climax."
British tabloid the Mirror described the event as "spectacular" while the Daily Express said the game was so boring the crowd attempted Mexican waves to "amuse themselves."
Across the ditch, Sydney Morning Herald's Greg Growden thought the ceremony "stunning" but the game "solid".
The Age columnist Peter Fitzsimons described the atmosphere as "electric".