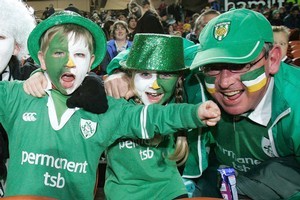 An Irishman living in Auckland is wearing a new jersey for the World Cup - thanks to his honesty.
Dubliner May McKeon posted one to her Auckland-based niece in March, but it was incorrectly addressed.
A fortnight ago she received an email from Irish expat Keith Crawford. It said: "I think she may have moved and the new resident of a house in Auckland gave it to me because I am Irish. It is a lovely shirt but my Presbyterian mother would kill me if I kept it."
McKeon was stunned and gave it to him: "I hope it fits and you can wear it with pride," she said.
Ireland play the US today.