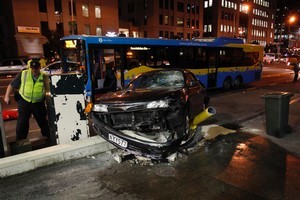 Six pedestrians were taken to hospital after they were hit when this car and bus collided in Fanshawe St. Photo / Sarah Ivey
Last night's opening-night celebrations were marred when two men suffered head injuries in a bashing and six people were taken to hospital after being hit by a bus.
The two men, a 38-year-old and a 21-year-old, were taken to Auckland City Hospital about 8pm after they were assaulted in downtown Auckland.
Hospital spokesman Mark Fenwick said both men had suffered bad head injuries and were in a serious condition.
The men are believed to have been injured while taking part in Rugby World Cup celebrations in the city centre.
Earlier, just before 7pm, emergency services were called to an accident in Fanshawe St involving a bus, a car and several pedestrians.
A spokeswoman for the northern ambulance communications centre said six people were taken to Auckland City Hospital. Several were seriously hurt and the others had moderate injuries.
Northern fire communications spokeswoman Megan Ruru said shortly after 8pm that firefighters were still at the scene, helping the police.
She said none of the people hurt had been passengers in the bus or the other vehicle.
Police said they were still investigating.
Mr Fenwick said last night that two people from the accident were still in hospital.
A 33-year-old woman and a 50-year-old man were both being treated in the emergency department and were in a stable condition.
There was also drama at the Britomart station, where thousands of people queued for trains to Eden Park. An ambulance was needed when a person collapsed about 6pm. The patient, believed to have been waiting for a train, was rushed to Auckland City Hospital.
St John spokeswoman Linda Donaldson said the person had simply collapsed but was not hurt.