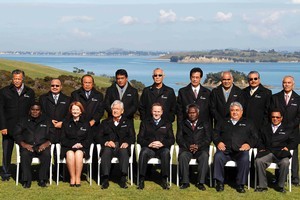 The Pacific Island leaders have arrived on Waiheke vineyard for their annual retreat - but some leaders were not happy with the choice of "silly shirt."
The Pacific Islands Forum leaders uniform was a black Icebreaker jacket - with a silver fern on the chest in a sly show of support for the All Blacks.
It was dubbed a practical measure to keep leaders accustomed to more tropical climes warm.
However some were not so comfortable with the choice - notably Samoan PM Tuilaepa,
Tonga's PM Lord Tu'ivakano and Australia's PM Julia Gillard - the three countries with teams in the Rugby World Cup.
Mr Key joked he would make it compulsory for the first game tomorrow and had also given them All Blacks jerseys to wear.
"I gave Julia Gillard two so if she loses one, she'll have a spare. She looks good in black."
A laughing Ms Gillard - due to meet the Wallabies this afternoon - said she would not wear the black any longer than she had to.
Lord Tu'ivakano also said he would replace it with Tongan team red by tomorrow night.
The round table discussions are being held at Cable Bay, overlooking the Hauraki Gulf toward Auckland's CBD.
The leaders will spend the day in the retreat before releasing their joint resolutions.
Prime Minister John Key, who is chairing the meeting, has said the focus would be on economic issues - including renewable energy projects to help reduce reliance on fossil fuels.
Although some leaders - most notably Kiribati President Anote Tong - have voiced support for lifting Fiji's suspension from the Forum. However its collective stance is unlikely to change.