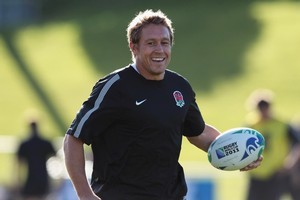 Members of the England World Cup squad have received a rousing welcome in Christchurch after touching down for a good will visit today.
The English team were scheduled to be based in Christchurch before the region's earthquakes, and are now basing themselves in Dunedin.
The team, however, is making a visit to Christchurch today to show support for the people as they recover from the earthquakes.
Coach Martin Johnson and players Shontayne Hape and Dave Wilson were met with loud applause and cheering from Christchurch Woman's Hospital, with about 20 British doctors based in Christchurch decked out in English colours and waving England flags.
The group then toured through the hospital and visited mothers with premature babies in the hospital's neo-natal unit.
Wilson took the opportunity to hold one of the premature babies and said it reminded him of how much he missed his one-month-old Oliver back home.
Johnson told hospital staff the team had watched the terrible earthquake scenes from afar and wanted to do what they could to lift people's spirits.
The players visited the quake-damaged AMI stadium this afternoon and met Christchurch mayor Bob parker, who talked them through the events of September last year and February.
Mr Parker also presented the players with a box of red and black socks, which are being sold in a fund-raising effort for the quake recovery.
The team are making another visit to a quake-damaged school this afternoon.
- APNZ
- APNZ