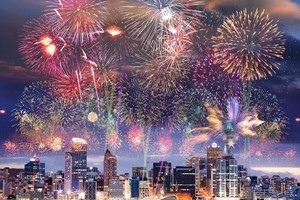 The Rugby World Cup's opening fireworks display and first match will almost certainly play out under clear skies, according to forecasters.
MetService says the warm, fine weather over the country should last, at least in Auckland, until the weekend.
Weather ambassador Bob McDavitt said a new weather pattern bringing rain and stronger winds from the Tasman Sea was unlikely to hit Auckland until late Saturday or Sunday.
"There is still a question mark over the Saturday for places like Wellington ... but I'm 90 per cent certain it won't come on Friday - that's as good as it gets."
The All Blacks' opening match against Tonga at Eden Park on Friday should be played under clear skies, a light breeze and 12C to 13C air temperature.
France's first game against Japan on Saturday should also be played in dry conditions.
Showers will reach Auckland by Sunday, and are likely to affect the Australia v Italy match at North Harbour Stadium.
The rain will reach Dunedin and Wellington earlier. While fans are protected from the elements at Stadium Otago, crowds at the South Africa-Wales match at Stadium Wellington may have to contend with rain and northeasterly winds. A southerly change is expected on Monday.
This week
* Auckland - fine weather, high of 16-17C. Showers arriving on Sunday.
* Wellington - fine with some drizzle on Friday, high of 14C. Wind and rain arriving on Saturday.
* Dunedin - fine with some rain Thursday, high of 14-15C. Rainy patches throughout the weekend.