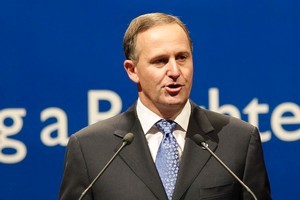 National MP Tau Henare has felt the sharp edge of National's list ranking - but Prime Minister John Key has fingered at least five others as ministerial material.
Mr Henare was one of the losers on National's list, dropping from 26 to 40.
He said he was disappointed "for about 10 minutes" but it was still a winnable slot.
Mr Key said in order to promote some people, others had to go down. He did not want to conduct a performance review of Mr Henare through the media. "But at the end of the day, there's a message there. I'm sure he'll continue to work hard."
Asked if he would try to impress the party more in the future, Mr Henare said he would continue to work hard as an MP, "but I'm not going to lay myself prostrate in front of a group of people who don't think much of me. You just get on with it."
The 2011 list also featured some winners - and Mr Key said it sent a strong signal of whom he was watching closely for ministerial posts. He listed Amy Adams (28), Peseta Sam Lotu-Iiga (29), Simon Bridges (30), Michael Woodhouse (31) and Nikki Kaye (33) as names to watch.
"There are a number we see a pretty bright future for and we're sending them a pretty clear signal that they're going to have more opportunities in the future."
Others who dropped significantly included Paul Quinn, who at No 56 is in the danger zone and likely to need at least a 48 per cent vote for National to return to Parliament. Tamaki MP Allan Peachey also slipped down the rankings, from 34 to 48.
National also came in for criticism for the low number of women on the list - of the 75, only 24 are women. Only two women are in the top 10 and 10 in the top 40.
Mr Key said he would like to see more women selected and in top places. Many of those promoted were women - including Hekia Parata, Paula Bennett, Ms Adams and Ms Kaye.
One of his main goals was to increase the list's ethnic diversity - the two new faces likely to make it straight into Parliament were Auckland University lecturer Dr Jian Tang, who specialises in China's foreign policy, and former pastor and community worker Alfred Ngaro, of Cook Island descent, who ran for the Auckland Council for Citizens and Ratepayers.
The ethnic bracket is in the mid 30s - and includes Mr Yang and Mr Ngaro as well as current MPs Melissa Lee and Kanwaljit Bakshi.
Ms Kaye said she was pleased with her ranking but it would not lessen her determination to hold on to her Auckland Central electorate seat.
Asked about the number of women on the list, she said it was important for women to actually put their names forward for safe National seats.
Many of the new female names - such as Claudette Hauiti - are below winnable slots. The only new female with a safe electorate seat is Maggie Barry in North Shore, who is at 58 on the list.
WINNERS
* Paula Bennett: 14 (up from 41)
* Hekia Parata: 18 (36)
* Amy Adams: 28 (52)
* Simon Bridges: 30 (51)
* Michael Woodhouse: 31 (49)
* Nikki Kaye: 33 (57)
LOSERS
* Tau Henare: 40 (down from 26)
* Alan Peachey: 48 (34)
* Maurice Williamson: 19 (8)*
*Ministers were all ranked according to Cabinet rankings.