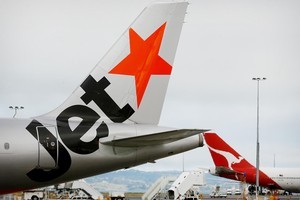 Disappointed Jetstar customers are going online to vent their frustrations with the budget airline.
Dontflyjetstar.com has received hundreds of complaints, including bad customer service, crushed luggage and pilots being made redundant to cut costs.
Central Otago man Barrie Wills, 59, said he spent two months trying to get a refund after Jetstar charged his credit card three times for one booking.
Wills thought that dontflyjetstar.com was a joke until it provided him with key Jetstar contacts who resolved the issue.
Aucklander Keith Brock, 45, dared the chief executive to contact him directly after his luggage was smashed during a flight from Sydney. "I truly dare you to but I won't hold my breath as I fully expect that you do not have the balls," Brock wrote. He still hasn't heard from the company.
Jetstar's Andrea Wait said dontflyjetstar.com did not take into account a wider view of their company.
"We take the feedback of our customers extremely seriously and we seek to resolve any concerns directly."