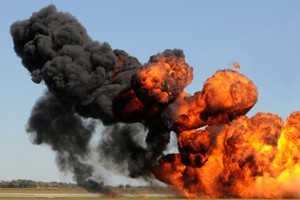 The New Zealand Superannuation Fund is investing in companies involved in the manufacture of cluster bombs, the Green Party claims.
Answers to Green Party parliamentary written questions have revealed the fund invests $2.5 million in five companies allegedly involved in the production of cluster bombs.
The revelation comes 20 months after the fund sold $37 million of shares in six companies that make cluster munitions and one which was "also involved in the simulated testing of nuclear explosive devices".
Green Party Co-leader Dr Russel Norman said the fund was still investing in cluster bomb manufacturers GenCorp, Kaman, Saab AB, Tata Power, and Zodiac Aerospace.
He said that was likely a breach of the United Nations Cluster Munitions Disarmament Convention signed by New Zealand in December 2009.
"Profiting from the production of cluster munitions is immoral and an embarrassment to the reputation of the Government's superannuation fund," he said.
"I think the average New Zealander would be shocked to know their retirement savings are being invested in cluster bombs.
"We are growing increasingly concerned that the Superannuation Fund's in repeatedly breaching its own guidelines on ethical investment. Their repeated oversights risk serious damage to our reputation as a responsible member of the world community."
Cluster bombs are canisters dropped from aircraft that open above ground and release large numbers of small bombs.
Many do not explode on impact and remain lethal for years, killing or maiming civilians.
Guardians of New Zealand Superannuation denied the fund would be in breach of the UN convention on cluster munitions over the investments revealed by the Greens.
"We note that as the Greens should be aware, the international convention on cluster munitions applies to companies that manufacture cluster munitions. It does not apply to investment.
"The fund is therefore not 'likely to be in breach of New Zealand's obligations under the Cluster Munitions Convention'."
The companies were held "passively" and moved in and out of the fund based on market capitalisation rather than through active 'stock picking', the guardians said.
"We note that the combined value of the holdings is a small fraction of one percent of the fund.''
The guardians said they were researching whether a number of companies in which we are invest were involved in the manufacturer of cluster bombs.
Investments would be assessed to see whether they were economically and morally sound, they said.
"This is a process which must be done thoroughly.... we therefore make a decision to exclude, or otherwise, only on the facts as we understand them first-hand."
In June, the New Zealand Superannuation Fund was found to be holding 44,595 shares in Mumbai-based multinational Larsen and Toubro, which is involved in designing and building a fleet of nuclear-armed submarines for India.
Dr Norman said fund had previously been found to be investing in the whaling and tobacco industries.
It has invested $9.3 million in companies involved in the production of nuclear weapons, $29.7 million in companies cited for severe environmental destruction, $17.5 million in companies committing human rights violations, and $2.7 million in a company that supplies weapons to the Burmese Government, he said.
"In the long term, it's not in our interests or our children's to profit from the proliferation of nuclear weapons, the destruction of our environment, or the on-going support of the oppressive Burmese military regime."
- with NZPA