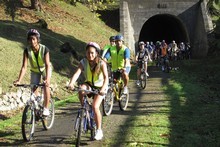 A coroner investigating the deaths of three Waikato cyclists has suggested cyclists could be charged levies in future to pay for safety measures to reduce the cyclist road toll.
But cyclists have labelled it a "kneejerk reaction" that is unfair to bike-riders who already pay more than their share in road-user charges.
At an inquest into last November's fatal accident, in which Kristy King lost control of her car hitting the three cyclists south of Morrinsville, coroner Gordon Matenga put it to witnesses that safer roads for cyclists would cost more money.
"If I made the recommendation that the road verges or areas left of the fog line should be extended to create cycle lanes, the Government would probably say 'well that's fine but how would it be funded?'."
Mr Matenga said this could lead to the regulation of bicycles, requiring cyclists to be licensed and pay levies as road users.
The Waikato coroner is part of the way through a series of inquests to identify ways of reducing the cyclist road toll.
The inquests are being held across four regions - Central Districts, Waikato, Auckland and Canterbury - where evidence relating to eight cycling deaths, five of which happened in one week last year, was to be heard.
Yesterday's inquest in the High Court at Hamilton heard from three of the cyclists who were part of the group King ploughed into on November 14 as she drove to work on the Morrinsville-Walton Rd.
Wilhelm "Willy" Muller, 71, died at the scene, while Mark Ferguson, 46, died shortly after and mother-of-three Kay Wolfe died in Waikato Hospital four days later.
The inquest heard from Senior Constable Mark Chivers of the Waikato Serious Crash Unit that King had crossed the centreline on a bend at the base of the hill as she approached the oncoming cyclists.
A witness from the pack of 11 cyclists, Robert Bailey, broke down during his submission when describing how he saw his friend, Mr Muller, get hit by the car and flung over it.
But the experienced cyclist said he would not like to see cyclists pay road user charges and he believed it would put people off the sport.
Cycling Advocate's Network manager Patrick Morgan called a levy on cyclists a "Band-Aid" approach.
"Let's focus on what works ... improving driving standards, investing in great infrastructure, in cyclist education, and enforcing the rules that we have."
HIGH TOLL
Cyclist crash statistics for Waikato, Auckland, Central Districts and Canterbury for 2006 to 2010:
* 2491 crashes involving cyclists.
* 22 deaths.
* 1932 serious and minor injuries.
* Majority of the crashes happened in urban areas between 6-9am and 3-6pm.
* Major causes were failing to give way, failing to stop, poor observation and incorrect lane position.
By Natalie Akoorie