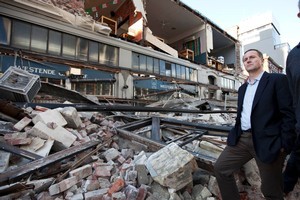 Cabinet will meet outside Wellington for the first time in 16 years to mark the anniversary of last year's Canterbury earthquake.
Prime Minister John Key announced today that the September 5 meeting would be held at the Copthorne Commodore in Christchurch.
"Last year's September 4 earthquake and the subsequent February quake were of such a devastating nature that we will be dealing with the after-effects for years," Mr Key said.
"However, it is important for the people of Canterbury to know we have a plan to rebuild their city and get their lives back to normal."
The last time Cabinet met outside Wellington was in 1995 when ministers met in Paihia during Waitangi Day celebrations to commemorate the 155th anniversary of the signing of the Treaty of Waitangi.
- NZPA