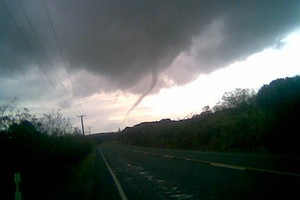 A spectacular photo has been captured of a tornado in the Far North late yesterday afternoon.
WeatherWatch.co.nz last night warned of the possibility of floods from sudden, heavy downpours, thunderstorms, and a low to moderate risk of an isolated tornado in the northern part of the North Island.
Ellie Farnham captured the photo of the tall, narrow, twister northwest of Waiharara School.
"[It] was just a mass of really black thick low cloud when we saw it start to form," she told WeatherWatch.co.nz.
"[We] stopped on the side of the road and a car travelling south yelled out to us to get out.
"Took the last photo and watched it get a little bigger and decided to turn around. Drove back a couple of kms and waited minute or two. Saw two vehicles going north past us turn around and head south again.
"Drove north again to see if had gone and saw it descending back into the clouds, the last of it spirally [sic] upwards, was quite impressive".
Ms Farnham said it lasted about eight minutes and was not aware of any damage.
- Herald Online staff