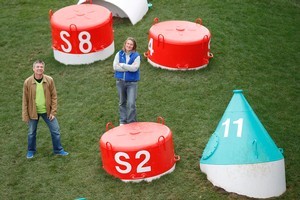 Sculptor Charlotte Fisher and partner Erwin van Asbeck feel "ripped off" after one of their arts installations using old steel buoys appeared to be copied at the Wynyard Quarter waterfront redevelopment.
The Grey Lynn couple were surprised to see the buoys outside the Viaduct Events Centre on the opening night of the Auckland Art Fair last Wednesday.
It was great to see the buoys placed as a nautical reference on the newly developed waterfront, Mr van Asbeck said. But Ms Fisher said the couple should have been involved in the project to make it work better and paid for "our idea".
They held a low-key protest at Saturday's Wynyard Quarter opening day, holding placards calling for artists to be acknowledged for their work.
In 2007, the sculptor and arts manager placed 14 old buoys from the Port of Onehunga along sites on the original foreshore to draw attention to the history of Auckland's development.
The artwork, Buoys BeFore Shore, was part of Auckland City Council's "Living Room" series to raise awareness of the city's CBD.
Four years later, the same or similar buoys from the Port of Onehunga have bobbed up outside the Viaduct Events Centre and Silo Park with their original faded patina replaced by a bright new coat of paint.
Waterfront Auckland chief executive John Dalzell yesterday said in a statement it was coincidental that the buoys at the waterfront appeared to be similar to the artwork created by Charlotte Fisher and Erwin van Asbeck.
He said the design team visited a Ports of Auckland yard in Onehunga last year looking for artefacts to create an authentic maritime environment at Wynyard Quarter.
Waterfront Auckland did not intend to cause offence to Ms Fisher and Mr van Asbeck, he said, and would be contacting them to ensure they understood this.
Three public arts projects have been installed at Wynyard Quarter, including the re-siting of Michio Ihara's Wind Tree.
The other two are a series of large metal horns in which people can sit and hear the sea, called Sounds of Sea, a collaborative project by Korean artist Aamu Song and Finnish artist Johan Olin; and The Flooded Mirror & Silt Line by New Zealand artist Rachel Shearer, a sound sculpture located at the landing of the Wynyard Crossing bridge.