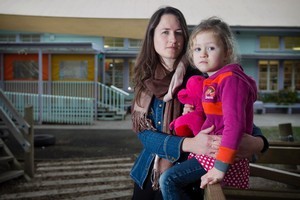 Shona Grundy says she'll have to keep her daughter Eden, 3, at home if Pt Chevalier Kindergarten closes. Photo / Natalie Slade
The early childhood education of more than 200 children is up in the air following plans to bulldoze an Auckland kindergarten - so the land can be turned into a carpark.
Pt Chevalier Kindergarten has been told its lease at Pt Chevalier Primary School will come to an end next year as the land is needed for more carparking - a council requirement when eight new classrooms are built to cater for an increasing roll.
That news has angered the parents of 90 children who are currently enrolled there. There are also fears those children - and 160 other children who are on the waiting list - will end up missing out on early childhood education as a result.
"This land is for our children and not carparking," said Pt Chev mother Shona Grundy, who is heading a group which is trying to save the kindergarten. Ms Grundy said she will have to keep her 3-year-old daughter at home when the centre closes as all of the other nearby ECE centres have long waiting lists. She has also spoken to other parents who are considering giving up work to care for their children when the centre is bulldozed as there is nowhere else to send them.
Auckland Kindergarten Association General Manager Tanya Harvey said the kindy had not been able to find any other land to lease in Pt Chev and could not afford to buy as most sections were over $1 million.
Ms Harvey said the suddenness of the eviction suggested a "lack of recognition for the importance of early childhood education" and she is now pleading with the Ministry and Council to come up with an alternative solution to keep the centre - either onsite or at a new one.
"We will ask the Ministry to redouble its efforts to find an alternative local site for the kindergarten.
"And we will ask the Auckland City Council and Mayor Len Brown if they might find a 'creative solution' that would allow the school to meet parking regulations without having to build a carpark on the kindergarten site."
The school was not making comment yesterday and referred all queries to the Ministry of Education.
The Ministry's group manager property management Kim Shannon said the population growth in Pt Chevalier meant the school was experiencing more and more pressure on its current facilities as enrolments increased.
Ms Shannon said the ministry's local office and the school have been working with the Auckland Kindergarten Association to try to seek alternative arrangements for the kindy and its children.
Minister Anne Tolley stepped in last night saying it was "ridiculous to lose a kindy for a carpark" and has ordered the ministry to take another look at the problem.
"I've ordered the ministry to halt its plans and take a more considered look at all of the issues."
Peter Haynes, chairman of the Albert-Eden local board, last night called for Mayor Len Brown to also step in and help.
"I've asked the mayor to intervene to stop this before real damage is done. Closing the kindy is not how we make Auckland the world's most liveable city."
Mr Haynes said the board was dismayed to hear the ministry would sacrifice the kindy for some parking.
"That's madness. The ministry needs to find a suitable site for the kindy before it does anything else".
A spokesman for the mayor said he would "consider becoming involved if parents thought he could bring some value".