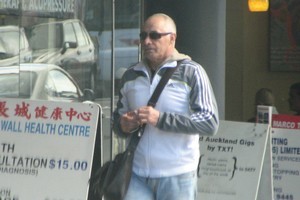 The drug baron who owned $440,000 worth of luxury cars while on the dole has been ordered to sell his million-dollar home.
Ronald Terrence Brown made his money importing Ecstasy, LSD and methamphetamine through a sophisticated network.
He's admitted making $4.5 million from his drug syndicate and has already had nearly $900,000 cash, $60,000 worth of jewellery and his six cars confiscated by authorities.
The Solicitor General also applied to make Brown pay a "pecuniary penalty" of half the value of his family's home in Auckland.
The 66-year-old is serving a jail term of 11 years and has a half-share of the property with his brother, but the house is likely to go on the market.
Justice Mark Woolford issued a judgment in the case yesterday. He has given the Brown family a chance to buy the convict's share in the home in the harbourside suburb of Westmere by paying the Crown $600,000.
If they cannot do that, the Official Assignee will sell the property, half of which will go to the Crown once the $78,000 mortgage is paid.
Brown's lawyer David Reece had argued the sale of his client's home would leave him destitute when he was eventually released from prison.
But Crown prosecutor Robin McCoubrey said if the home was not sold, it would amount to a "misplaced mercy".
Justice Woolford said the sale of the property was a "proportionate response" to Brown's $4.5 million drug offending.
Brown's arrest followed a five-month police investigation which began in 2008 when Australian authorities intercepted a container from Lithuania holding a large granite sculpture with 28kg of methamphetamine hidden inside.