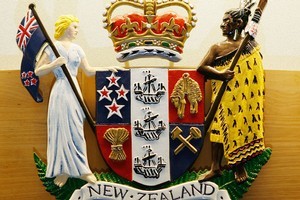 Natalie Ford was punched in the face and had her head slammed against a doorframe before she stabbed her partner, a court has heard.
Ford is charged with murdering her partner Gary Marshall at Orewa, north of Auckland in January last year. She has pleaded not guilty at the High Court in Auckland.
Crown prosecutor Paula Carter told the court that Ford and her partner had been drinking with a friend at a house in Orewa, north of Auckland.
The pair had been in a "volatile" relationship for between three and four months after meeting on Waiheke Island.
"Both had issues with alcohol. It was a relationship marked by physical and verbal abuse with Ms Ford giving as good as she got," Ms Carter said.
She said a witness, Simon Turner, was walking past the house where Mr Marshall and Ford had been drinking.
Ms Carter said he will describe hearing angry voices and seeing Ford collecting what appeared to be a bag of clothes off the lawn.
"He could hear female and male voices yelling from the address. He could hear Mr Marshall yelling: 'get out' and 'piss off'."
He said he also saw a make-up bag land on the lawn before Ford started yelling obscenities.
"And in Mr Turner's words, 'that's when all the s**t started'."
Ms Carter said Ford slapped Mr Marshall before he punched her in the face, grabbed her hair and slammed the back of her head into a doorframe.
She said Ford used both her hands to scratch Mr Marshall's face and drew blood before the pair went inside and continued yelling.
"The Crown says the accused suffered no further injuries."
Ms Carter said Ford went into the kitchen and got a knife.
"She stabbed Mr Marshall so hard that the knife went into his chest to the full length, right up to the handle."
Mr Marshall stumbled into the lounge room where he collapsed and died.
Ms Carter said Ford put the knife in the kitchen sink, washed some blood off and called an ambulance.
A jury of six men and six women have been empanelled to hear the case which is set down for two weeks and will hear evidence from 39 witnesses.