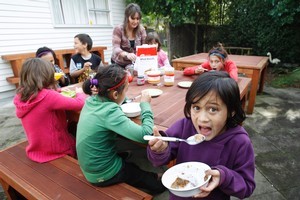 Many readers will have been taken aback this week by revelations in the Herald series on the number of children turning up at schools hungry each day.
The problem is not new but it has clearly become worse, accentuated by the recession and made more obvious by the demise of a successful community programme because of a loss of corporate sponsorship. Up to 83,000 Kiwi children sometimes or always miss breakfast before school.
The series, Our Hungry Children, aimed to highlight that worrying reality. It examined a variety of projects to feed children at schools and their families through food banks.
Much good work is being done, by individuals like Takanini mother Bronca Fox whose neighbourhood effort feeds 250 children, by churches, charities and companies. Indeed, it should not be forgotten that Countdown supermarkets, which did not renew its sponsorship of a Red Cross programme giving daily breakfasts in 61 low-decile schools, had contributed around $1 million over four years.
The Government has a nationwide "fruit-in-schools" scheme. Big food companies such as Fonterra and Sanitarium should be hailed for substantial assistance to the KickStart Breakfasts. The KidsCan charity serves 20,000 children food in 189 schools.
Those providing the food agree that in a developed nation like ours the demand for such basic necessities of life is way too high. The benefits of providing children with breakfast or lunch, or even supplementary nutrition like milk or fruit, go beyond sating appetites.
An absence of hunger can improve pupils' sense of belonging at their schools, benefit their concentration, achievement and behaviour in class and stave off illnesses associated with hunger and poverty. More needs to be done. But what?
Immediate reaction through our Your Views section on nzherald.co.nz and in letters to the editor and public debate has been spirited.
Broadly, it is split between those who say they care for their own children and do not want their taxes redirected to poor parents who should also take responsibility - and those who say vulnerable children need food, not blame directed at their parents, however inadequate they may be.
Whatever the reason, the fact that tens of thousands of schoolchildren arrive at school hungry every day is an eye-opening disgrace. Existing community efforts are inspired but piecemeal.
The Child Poverty Action Group called this week for those programmes to continue but be augmented by a $6.7 million government investment in appointing food co-ordinators in the poorest schools to ensure the maximum number of children benefit. Its report was measured and affordable, not dumping the problem entirely at the door of the state.
If more corporates, churches and community volunteers join the programmes, a big difference can be made.
The real cause of most child hunger is poverty. Despite the easy finger-pointing over gambling, drinking and Sky TV dishes, surely few parents consciously deny their children food.
Many adults depending on food aid for themselves or their children are jobless, failing to cope on benefits. For the good of all, Governments can and should help directly with feeding the hungry at schools.
But it will be indirectly, in policies to lift families out of welfare dependency, to upskill parents for productive jobs and to raise incomes at the bottom of the heap, that long-term change will be achieved.
Our children's hunger must focus policymakers on that great challenge.