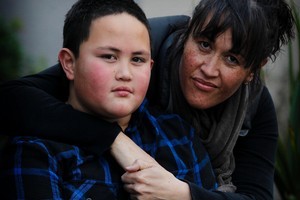 Wiremu Jones had just turned 11 so his parents thought he would be old enough to catch a bus from Albany to Hamilton.
But after a nightmare trip in which the young boy ended up near Whangarei he won't be going solo again for a while.
Wiremu got on the 11.30am Intercity 6101 bus on Tuesday, with his cousin showing the bus driver the child's ticket to Hamilton and his unaccompanied minor's form.
"The driver checked it and gave it back to him and told him take a seat," said his mum, Nadia Jones.
"He said he would make sure that he got on the right bus to Hamilton and that Wiremu would be okay."
But after arriving in Auckland, Wiremu sat on the bus unaware that he needed to get on another bus as the rest of the passengers cleared out along with the driver.
He noticed other passengers loading their bags and another driver at the wheel, who started the bus and drove away.
"When we stopped for a break I said to the bus driver 'are we going to Hamilton?' and the bus driver said 'no' and I said 'but I'm supposed to go there'," said Wiremu.
He was in Kaiwaka, about 50km southwest of Whangarei and more than 200km from the Hamilton bus terminal where his anxious dad was waiting to meet him.
Wiremu started to sob but the bus driver apparently told him to "stop crying".
"I liked the other driver better," he said.
His dad received a call from Intercity not long after.
"They told him that Wiremu was in Kaiwaka and he was like 'where the heck is that?'," said Mrs Jones.
Wiremu was placed on another bus which took him back to Albany, where he was met by relatives at 5pm - more than two hours after he was meant to arrive in Hamilton.
Mrs Jones said she received a refund for Wiremu's ticket but no apology. She is lodging a complaint.
"It's the school holidays and I wouldn't want this to happen to any other child," she said.
"This is the first time we had done this so never, ever again. We are just really thankful that he's okay."
Sam Peate, Intercity's general manager coaching division, said the incident was very unusual. He was yet to be fully briefed about what happened but said Intercity did not have additional staff to accompany minors to their final destination.
"We do carry a lot of unaccompanied minors and by and large that travel happens without incident."
Mr Peate said he would investigate the Jones' complaint.