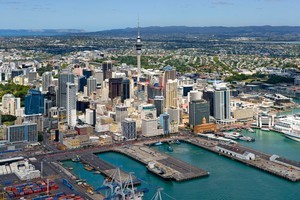 A pohutukawa logo will become the symbol for Auckland, potentially killing off the $174,000 frayed-A logo used to promote the city and a new $25,000 waterfront design.
Auckland councillors yesterday decided that the pohutukawa logo would become the brand of the Super City - and used by every council-controlled organisation (CCO) in all communication, marketing and advertising.
They were responding to calls by officers for a single brand for Auckland, and after the Waterfront Auckland CCO went ahead and created a new blue and red W logo costing $25,000.
Auckland Mayor Len Brown told the council-controlled organisations strategy subcommittee that Auckland should be branded with the pohutukawa - chosen as the Auckland Council logo in April last year from more than 1500 entries.
Mr Brown said a lot of work still needed to be done on a brand for the city.
Earlier versions included the City of Sails design and the frayed A.
In September 2008, the business arm of the Auckland Regional Council came up with a lava-coloured letter A frayed at the edges to provide a broader promotional image than City of Sails. It cost $174,000.
The logo emerged from the Metro Project action plan launched several years ago to transform Auckland into an internationally competitive city.
It is used to brand major events, including the upcoming Rugby World Cup.
Councillor Cathy Casey said the pohutukawa was the way to go - "it is there, it is free".
Communications and public affairs manager Shelley Watson called for clarity on whether CCOs should use the pohutukawa logo or be given the freedom to brand their own business, such as had occurred with Waterfront Auckland.
Data suggested ratepayers were not associating the good work of the CCOs back to the council, she said.
Ms Watson said the subcommittee's resolution would be discussed at a "brand navigation group" made up of council and CCO representatives.
Waterfront Auckland chairman Bob Harvey - a former advertising executive who chaired the Auckland Council logo competition - said Waterfront Auckland would keep its logo and incorporate the pohutukawa logo as a branding compromise.
Mr Harvey did not believe there was a sentiment from councillors to ditch the W logo in favour of the pohutukawa.
"I'm not buying into that at all. I think we can accommodate the Auckland logo," he said.
The Auckland Tourism, Events and Economic Development CCO, which manages the A logo, did not respond last night to the resolution.
Auckland has a knack of designing logos that turn sour. In 2001, adman Mike Hutcheson proposed a new slogan/logo for Auckland, Auckland "A" as part of the Auckland Festival.
The idea was panned.
Former Auckland City chief executive David Rankin got into strife when he imposed a more "metaphorical" wavy blue logo on the new council immediately after the 2007 local body elections.
A council source said the rebranding exercise cost $1 million. The council put the cost at $329,000.