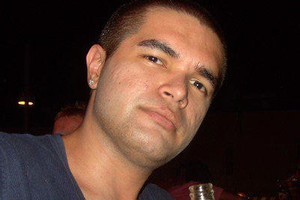 20-year-old Elliott Turner has appeared in a British court accused of the murder of New Zealander Emily Longley, an aspiring teenage model.
Turner faced magistrates overnight in Bournemouth, charged with killing the 17-year-old on May 7 this year.
He is also charged with perverting the course of justice between May 6 and July 21.
He was remanded into custody and ordered to appear before Winchester Crown Court on July 28.
Earlier, Turner's parents Leigh, 53, and wife Anita, 50, appeared before the same court to face a charge of intending to pervert the course of justice between May 6 and July 21.
The couple were released on bail and told to appear before Bournemouth Crown Court on October 3.
Today the Herald details how Elliot Turner partied in the days following his girlfriend's death.
With Emily Longley's dead body still in the morgue as police investigated how she died, Turner partied with friends and was even kicked out of a club for pulling down his pants and showing his genitals.
He had been trying to show off a thigh tattoo of his own initials - "E.V.T".
The ink sums up his life - self-promoting.
The Herald's interview with Turner started at the seaside Cafe Shore on the Sandbanks Peninsula in Poole, south England.
He would later reveal the winebar was where he had spent his last night with underage girlfriend Emily Longley, drinking cocktails before she died at his Bournemouth home.
Turner arrived for the interview in a black Mini Cooper. He was wearing a striped pink and white shirt - unbuttoned halfway to expose his shaved chest - white shorts with a black Dolce & Gabbana belt, and boat shoes. He had dark sunglasses and his dark hair was swept back with gel.
He was quick to explain he didn't have on any of his usual jewellery: police had seized it.
After a kiss on the cheek, Turner walked to the bar and - after acknowledging the barmen by their first names - ordered me a strawberry daiquiri and himself a coconut mojito, and insisted on paying.
Over the next six hours he claimed to have:
* Slept with models and beauty queens.
* Attended wild parties, spending hundreds of pounds on premium vodka.
* Used cocaine.
* Had relationships with British reality TV stars.
He painted a picture of being a minor celebrity in Bournemouth, talking about how much money his family had.
But he also seemed insecure, constantly fishing for compliments.
He spent a lot of time on his cellphone and greeting people as they came in the bar, even winking at a young woman who he couldn't remember if he'd "hooked up with".
The waiter came over at one stage with the bar's phone, saying there was a call for him.
"Literally every second, someone keeps coming in the door and shaking my hand," Turner bragged. "It's ridiculous. Even the barmen."
He explained he was not allowed to talk about the night Emily died, but was happy to discuss their relationship.
Turner claimed they had slept together the first night they met, but he didn't contact her for several weeks afterwards.
When they eventually got together, Emily questioned him about his past, he said.
"She said, 'How many people have you slept with?' I told her. 'Have you ever shagged a stripper?' Yeah, I'm going to tell the truth. 'Have you ever shared a girl with your friends?' Well yeah.
"She'd heard so much s*** about me, not bad things but, 'He cheats on women, he'll leave you the next day, he won't call you, he won't cuddle up to you after he's had sex with you, he's just emotionless, he's heartless'."
Turner claimed Emily was changing him.
"I always said, 'You never leave see-you-again tokens', where a girl leaves a pair of earrings or whatever. It's deliberate, 'so I can [see] that boy again'.
"I never thought in a million years I would even go for a meal with a woman. I'd never take them on dates. Nothing more, that's the line I never crossed ... I broke every rule in my supposed rule book [with Emily]."
But he still could not completely give up the party lifestyle. After a romantic meal on Valentine's Day - which he said cost him £210 (nearly $400) - the couple went to a bar in Bournemouth.
"Of course, me being me, as you can probably tell, all my friends had to join us," he said.
"They walked in, recognised me, all joined us on a large table. It went from just the two of us to a massive party in a VIP booth."
The interview had to be completed at my hotel after two of his friends arrived at the bar, made a verbal attack and pleaded with Turner to go for a drink with them.
He had explained earlier that his group of friends call themselves "The Firm", but said they were not a gang and he didn't deal drugs.
When they left, Turner bragged: "I can guarantee in half an hour there will be five or 10 of my friends coming in. Even on a Sunday. They'll go straight to the bar. They'll be ordering bottles of Grey Goose [vodka], probably worth 180 quid, probably drinking all night."
At the hotel, he admitted to having used cocaine, and claimed his grandparents paid £30,000 for a 28-day stint in celebrity rehab facility The Priory, "just like Kate Moss".
He insisted he had been in love with Emily and acted shocked about her death, but did not shed a tear once.
The interview ended with photos. He chose those he thought were the best.