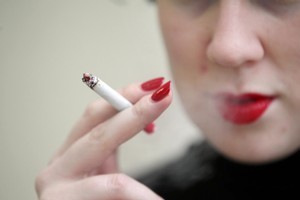 It's increasingly rare to see them in our midst but they are there. Huddling out of the rain on a bleak lunchtime, crouched in a doorway or curled over an outdoor cafe table puffing away.
Some recoil when approached, ashamed to talk about their habit and horrified at the idea of being photographed and identified as a smoker.
Others happily discuss their addiction. Most have smoked since their early teens. All smokers the Herald on Sunday spoke to in central Auckland this week had tried to give up and declared a wish to quit permanently one day. Yes, yes, it's bad for my health, they say. It's expensive.
Everyone was doing it when they were young and that's how they got hooked. But the tide is changing, says one smoker, boilermaker Bryce Phiskie, 37, of Whangarei, adding: "Attitudes are pretty negative towards smoking nowadays."
If Auckland councillor George Wood had his way, smokers would be wiped from the city's landscape.
Smoking is already forbidden in regional parks, the zoo and playgrounds in Manukau and Waitakere.
Wood wants to see smokers gone from the streets, parks, shopping malls, ferry terminals, train stations and bus stops.
He thinks the public should not have to walk by "caged-up" office workers who have escaped outside for a fag. "It means the poor people out there are having to passively inhale smoke."
But at a meeting of the Auckland Council community safety forum on Thursday, chaired by Wood, the committee voted against his recommendation for a smokefree zone in the CBD.
The anti-smoking movement is gaining momentum at the highest level. In March, the Government committed to a smokefree New Zealand by 2025, in response to a recommendation from the Maori Affairs select committee inquiry into the tobacco industry.
On Thursday, Parliament applied more pressure by passing the Smoke-free Environments (Controls and Enforcement) Amendment Bill which bans displaying and advertising tobacco products and introduces instant fines for retailers caught selling to under-18s.
About one in five New Zealanders smoke. It is the leading cause of preventable death, claiming the lives of 5000 Kiwis a year. The rates of smoking are falling, but not at levels which will see us reach the 2025 goal of a negligible 5 per cent of the population in just 14 years.
How this can be done is still being worked out by the Government's strategists and researchers.
Finland is the only other country to have a similar goal, although it is working towards being smokefree by 2040.
New York has gone for the peer pressure approach to shooing off smokers and it is now illegal to smoke in parks, beaches and pedestrian plazas.
The photograph of a stooped James Dean in an overcoat with a cigarette dangling from his matinee-idol lips as he strides along Times Square is now even more rebellious.
The new law is expected to be largely self-enforcing, but smokers flouting it could find themselves with a $50 ticket issued by park authorities.
A council in Sydney has taken steps to stub out outdoor smoking, leading to a curious situation where diners can smoke on only one side of street.
Marrickville council has banned smoking at tables along the western side of a cafe-lined King St in the inner city suburb of Newtown, popular with bohemian types and young professionals, while Sydney Council allows it on the other side.
Australia has some of the toughest restrictions on smoking in the world. They will introduce plain packaging for cigarettes in January, a move that New Zealand is likely to mimic. But inconsistencies between councils on outdoor smokefree rules have come under attack by cafe owners worried that customers will cross the road to light up.
At the end of a tough day, Kelly Lyndon, 28, an executive assistant from the North Shore, likes sitting down with a cup of coffee and a cigarette - or unwinding with friends on a night out.
"We all know it's bad for us but anything in excess is bad. Too many burgers will kill."
Lyndon supports a ban on smoking inside "because there is no escape" but says proposals to ban smoking from parks and beaches are "extreme and unnecessary". Lyndon thinks smokers are unfairly demonised and the Government's action against tobacco use is misdirected. "I admit it's not a healthy habit but we've got a lot of social problems because of alcohol and P and I've never heard of any family violence or women getting raped because of nicotine."
She resents the sideways glances and snide remarks she gets from strangers while puffing away.
Paradoxically, the stronger the anti-smoking message the more attractive it is to a certain sector of society. "Now that it's becoming more of an unacceptable habit, it's becoming associated with rebellion," Lyndon says.
Lady Gaga, the queen of shock value, has donned cigarette goggles for a music video and smoked on stage. She was undoubtedly aware of the strong reaction she was courting. Cigarettes were the glamorous accessory of every starlet in the golden age of cinema, and still feature widely on big and small screens.
Who could imagine Cheryl West, in Outrageous Fortune, without her smokes. Even the ditzy grandmothers in Go Girls drag away. Last year's most successful feature films were clouded in smoke. Colin Firth found solace in his cigarettes while stuttering through the Oscar-winning The King's Speech, Jeff Daniels showed True Grit by sucking on rollies and Mila Kunis' flirty ballerina lit up against the rules in Black Swan.
"The most powerful marketing of tobacco smoking is other people smoking," says Dr Marewa Glover, senior research fellow at University of Auckland's School of Population Health. Studies show that smoking on screen is much higher than the actual prevalence, which gives a false perception, particularly to young people, that smoking is normal, Glover says.
That concept of normalising smoking is the strongest scientific argument for banning it from public areas, such as parks, says Dr George Thomson, senior research fellow, University of Otago Wellington school of medicine. Passive smoking in an open area is not a major health risk but having more areas where smoking is not visible and therefore not seen as normal by children would lead to a reduction in uptake.
"It's also making it easier for smokers to give up because, if they don't see smoking around them, they are less likely to do it."