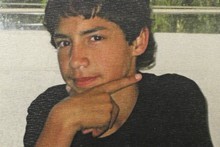 Shaun Malthus liked to save his money rather than spend it and had plans to join the army so he wouldn't have to pay for his education - although his grandmother didn't want him fighting for his country.
But his dreams were cut short when he stepped out into Ruakura Rd and was struck by a car on June 30, suffering fatal injuries.
June Hakanson, who addressed hundreds of mourners at her grandson's funeral yesterday, spoke of how he had an 'x-factor', how they went camping and ate eels and marshmallows for 10 days and how his role models were United States President Barack Obama and Prime Minister John Key.
The funeral was attended by several high-ranking Waikato police officers, friends, family and dozens of Hamilton Boys' High School students.
The congregation heard about Shaun's love of money and how, instead of receiving birthday cards, he would cheekily ask for the cash equivalent.
Shaun was 11 when he approached his grandmother to discuss his future.
"He said, 'I'm going to join the army', and I said, 'Why?' and he said, 'Because they will educate me for free'," Mrs Hakanson said.
"But I said, 'If you go there, I'll be the one crawling around Afghanistan trying to find you'."
The Year 9 student died on Sunday - 10 days after he was struck by a car as he tried to cross a busy Hamilton road in an 80km/h zone.
The driver, a 17-year-old labourer, was understood to be shaken by the accident. He is not facing charges.
Shaun's aunt Karyn Malthus, who acted as the family spokeswoman as his relatives held on to the hope that he would survive his injuries, said she had looked forward to watching him grow and getting to know him as an adult.
"Now that will not be," she said.
Hamilton Boys' High principal Susan Hassall said that although Shaun had spent just two terms at the school, he had made a difference in many people's lives.
She said he had had an enthusiasm for life and shown a genuine sense of compassion and care for others.
"Everything that life offered was embraced by Shaun," said Mrs Hassall.
"He lived every moment of his life with joy."
Shortly after the tribute, a group of schoolmates performed an intense haka.
Shaun's white coffin was covered in messages from his family and friends.
As he was taken away, there was an outpouring of grief, with many of his friends and schoolmates breaking down in tears and needing to be comforted by their peers.
Shaun was the fourth pedestrian to die on Waikato roads this year.
On Tuesday night, Lesley Aitken became the fifth when she was struck by a car near Gordonton.
She was going for a walk just a few days after she attended her son's funeral.
Her funeral is to be held today at Hukanui Marae in Gordonton Rd.
By James Ihaka

Email

James