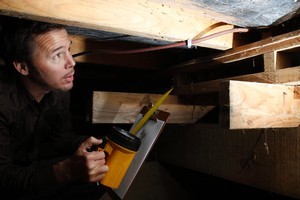 A Remuera property placed on the market last month ranks 10 out of 10 for location, but scores only 4 out of 10 for energy efficiency.
The Lingarth Ave home is the first to be ranked by the Government-backed rating system Homestar, which evaluates factors such as water use, heating and insulation.
It is a product of Prime Minister John Key's Job Summit in February 2009. The Government said the scheme would remain voluntary, but its founders hoped that market forces would encourage all homeowners to get certification.
Homestar chief executive Alex Cutler said the 4/10 rating for the two-storey Remuera home was above average for a New Zealand property.
Poor insulation standards meant most ranked 2 or 3.
"I've got a typical Kiwi villa and its's a 2 out of 10. But small changes would take that higher, and make my house a better place to live in. It's not just about scoring more points - these improvements would make the house more comfortable, and cheaper in the long term."
The assessor of the Remuera home, Verney Ryan, said the building scored 4/10 because it had good cladding, was well-heated (naturally and by gas) and well ventilated.
But it lacked good insulation and efficient water use.
He measured that the shower used 20 litres of water a minute. A better-quality shower head could reduce that to nine litres without reducing the comfort of the water flow.
The underside of the house was insulated by a foil, which did little to prevent dampness from the soil creeping up into the floorboards. About 25 litres of water rise from beneath an average-sized Auckland house daily.
Black polythene, bought for about $500, would reduce the moisture from the earth getting into the home.
Mr Ryan said improving these flaws would raise the building's rating to a 6 out of 10.
"Four stars is not bad, but it could easily be better. You'd spend a few thousand on the insulation - which the EECA [Energy Efficiency and Conservation Authority] can subsidise - but the value of the property would increase a lot, too."
His independent assessment would cost a homeowner around $500.
ON THE WEB
homestar.org.nz/