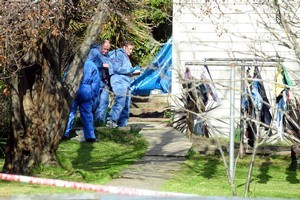 A 5-year-old boy ran to his neighbour's house to raise the alarm on Sunday after his mother was stabbed at their Dunedin home.
He and a 10-week-old boy were at the house at the time of the incident, in which a 22-year-old woman was assaulted so badly with a weapon she remained in intensive care with life-threatening injuries yesterday.
The officer in charge of the investigation, Detective Senior Sergeant Kallum Croudis, said police were concerned for the baby when the alleged offender took him from the South Rd house where the stabbing happened about noon, but the child was found safe a few hours later.
An 18-year-old scaffolder, who police were seeking in relation to the incident, handed himself in at the Dunedin Central Police Station at 9am yesterday.
He did not apply for bail when he appeared in the Dunedin District Court on an assault charge, and was granted interim name suppression and re- manded in custody until Thursday.
The victim was also granted interim name suppression.
The alleged offender's lawyer, Anne Stevens, said it was expected more serious charges would be laid.
Although other police told media the incident was a stabbing, Det Snr Sgt Croudis would not detail the woman's injuries other than to say she had a head injury and other wounds. He did, however, describe the incident as "extremely distressing".
"It's a gross violence in a domestic setting and we are, at this stage, very fortunate we are not investigating a homicide, and I hope against hope she makes it."
He did not wish to elaborate on the injuries for various reasons, including the pending court process.
Police had found a weapon.
His reasons for not saying where it was found would be revealed in time, Det Snr Sgt Croudis said.
Police were yet to establish the living arrangement of the pair. He was not prepared to comment on whether there was a previous history of domestic violence, or whether the alleged offender was otherwise known to police.
Police, Child Youth and Family and other agencies would meet to review the case, he said.
The 5-year-old was interviewed by police on Sunday and the children were now in the care of family members.
He praised the "great work" of CYF staff on Sunday, who negotiated the placement of the children.
Neighbours yesterday said they did not know the woman, who was renting the house, although they had seen her coming and going with the children.
Most said they were not aware anything had happened until the police arrived, although one said she heard screaming, but had not known if it was someone in distress or children playing.
"I wish I'd done something now," the woman said.
She said she heard the young boy, while he was walking along the street with a woman afterwards, tell her: "I've got blood on my clothes".
In court, Mrs Stevens said she requested name suppression to protect her client's school-age sister and to stop a proliferation of comments on the victim's Facebook page against her client and specifying details of the attack. The comments were made mainly from members of the victim's family, and were "destructive and unhelpful", Mrs Stevens said.
If there were name suppression, that would stop the comments gaining a "life of their own", which could potentially impede any legal process, she said.
Judge Stephen O'Driscoll granted the interim name suppression order to offer some protection to the defendant's young sister, he said.
- Otago Daily Times