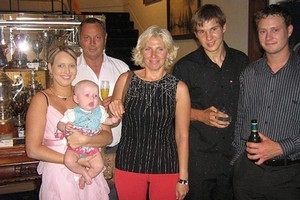 The first sign for Inna Rudyy-Collie's family that something was wrong came when one of her dogs arrived home from a beach walk without her.
Her husband, Stephen Collie, found their Yorkshire terrier Saska at their Murrays Bay home - but Inna, 44, was nowhere to be seen.
He hoped it simply meant the dog had run off without his wife of nine years and that she would still be on nearby Rothesay Bay beach with their other dog, Max.
But Mrs Rudyy-Collie had been struck by rocks that fell 50m from the cliff overlooking the path of her beach walk and died almost instantly from head injuries.
Saturday's tragedy has left the grieving family seeking answers, and prompted renewed calls for vigilance near the cliffs.
Yesterday, additional signs warning of the danger were placed near the walking track, about 300m south of Rothesay Bay beach.
Mr Collie told the Herald yesterday he believed that if his wife had been lying injured, Saska wouldn't have left her side.
"It sounds silly, but it was trying to tell us something."
Mr Collie, 62, and his 19-year-old stepson, Andrew, split up to look for Inna.
Mr Collie went to the beach, 500m from their home and her favourite walking track.
As he got there, he saw emergency service personnel and others huddled around an object. He asked a firefighter if someone had been injured.
"He said it was more serious than that, and there had been a fatality."
Fearing the worst, he spoke to a detective, who said the dead person was a woman.
"He asked me what she had been wearing and I said I didn't know because I'd gone to work before she was up."
The officer asked him if his wife had a pink dog lead. She had. He showed Mr Collie the cellphone found with the body, and that confirmed his fears.
"I rang [the phone]. I already knew there had been a fatality and I knew it was her phone."
Her cellphone began ringing in the police officer's hand.
Mr Collie relived the horror of going to the mortuary to formally identify his wife.
The rock caused "severe head trauma", he said, so her head was covered, "but I could still see it was my wife".
The couple chose to live close to the beach for the "outlook and safety".
"She loved the beaches and was a great walker and jogger and liked going to the gym."
Mr Collie said his wife walked her dogs along the track every day and he would have joined her on Saturday if he hadn't had to go to work, with concrete supplier Atlas.
"I told her I would see her later ... We were meant to be going to a 50th birthday party [that night]."
On her last evening alive, the couple had dinner at a local restaurant on what was a regular Friday night date.
Mr Collie said his wife qualified as a chartered accountant six weeks ago and had also completed a marketing degree.
He hoped no other family would have to go through the pain his own were now feeling, and urged people to "be vigilant".
"This was a terrible tragedy that should never have happened."
He wanted something done about the cliffs, which were "an obvious problem".
"There's a problem there ... I'm not blaming anyone or pointing the finger at anyone, but I don't want this happening to anyone else."
They had seen evidence of rockfalls along the track before, but he had never seen any rocks falling while they were walking.
Mr Collie praised police for the care and compassion they showed him on Saturday before his family could arrive.
His children, Jodie and James Collie, said Mrs Rudyy-Collie was a great stepmother.
Family from Russia, where Mrs Rudyy-Collie was born, wanted to come to the funeral, which is expected to be this week.
Her son Andrew spends half the year studying hotel management in Switzerland but is home at the moment."He's devastated, to say the least," Jodie Collie said.
She echoed her father's call for answers about how the cliffs could be so unstable that big boulders could come free.
Max, the family's other dog, was recovered later from the pound.
Auckland Council building control manager Ian McCormack said the cliff face was being eroded, like most other cliffs around Auckland.
He recommended staying at least 10m away from the bottom of the cliff.
"The chances of being struck by something coming off a cliff like this would be extremely unlikely but, as we've seen in this tragic event, they do happen."
He believed it was natural erosion and not linked to Friday night's small earthquake.
Council chief operating officer Patricia Reade said a geological assessment of the area had been ordered.
"This is a very sad reminder to the public of the dangers of our coastline," she said. "We want people to enjoy the coastline as much as possible but to be aware of the danger of walking beneath it and walking on top of it."
Ms Reade said the place where Mrs Rudyy-Collie died was no more hazardous than other parts of the coastline.
Anyone who saw the rockfall is asked to call Detective Sergeant Craig McCormack of North Shore police on (09) 477-5034