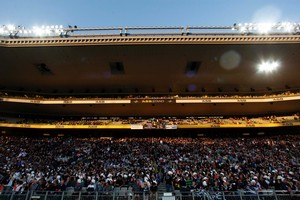 Every national anthem for the Rugby World Cup has been recorded and released to get Kiwis learning the tunes to help welcome visitors.
The New Zealand Symphony Orchestra and the Choral Federation performed all 20 anthems, which are in 16 different languages ranging from the familiar to the bewildering.
The guttural sounds of Afrikaans - in the five-language SouthAfrican anthem - could be the biggest challenge for New Zealand tongues, said Choral Federation conductor John Rosser.
Wales and Scotland sing of booting out English armies - and the Irish anthem praises the "four proud provinces".
Choral Federation members assembled for a 17-hour recording session on Queen's Birthday weekend, when linguistic experts coached the 24-person group through the languages.
NZSO trombonist David Bremner said there was plenty of healthy rivalry between orchestra members of different nationalities during the recording - "mostly giving everyone grief about their chances at the Cup".
Some of the anthems had odd tunes and melodies, he said.
"It's a little bit different from what we normally do - we're used to playing Beethoven and Brahms."
The Russian melody was one of his favourites, he said.
The anthem's translated lyrics are an innocuous celebration of the fatherland's age-old union of fraternal peoples.
Others, like the French, sing of enemies slitting throats. Argentina, Italians and Romanians are all prepared to die for their country.
Briony Ellis, director of the Real New Zealand festival coinciding with the World Cup, said people should have a go and have fun with the tunes.
Workshops would be held around the country this month to help out.
NZSO chief executive Peter Walls said the recordings had been approved by the guest countries.