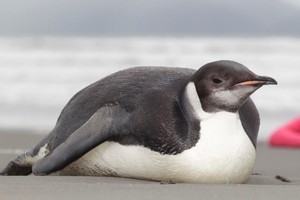 SOD the ash. Stuff Greece. Not literally, of course. You couldn't. An olive, yes; you can stuff an olive as easily as some folk imperil their career at the Northern Employers and Manufacturers Association. All you've got to do is find some stuff that isn't olive and stuff it in the olive and there you have it, one stuffed olive.
Get about two billion of them, stir in a budget blow-out, massive tax evasion, huge demonstrations and simmer till boiling and you've pretty much got a stuffed Greece as well.
Acropolypse Now, coming soon to a theatre near you. But stuff it. Disasters can wait. They're a dime a dozen these days. We've got calamities galore. Everywhere you look, there's something grotty afoot. Hell's bells, there's even been a report this week about some dame in Delaware using her bosom as a weapon.
Apparently, after a tiff at a wedding (not their own), Stephanie Robinette biffed her hubby round the lughole and locked herself in a car.
She was then approached by a posse of Delaware deputies who, according to the police report, "attempted to remove Robinette from the vehicle" at which point "she advised them that she was a breastfeeding mother and proceeded to remove her right breast from her dress ['Do you have a permit for that, Ma'am?'] and began spraying deputies and the vehicle with her breast milk".
Officer Dubrowski was hit in the chest and fell to the ground, mortally wounded that the very essence of motherhood could be so brutally employed. Robinette, it seems, continued her bosombardment, determined to injure not nurture, until she was finally subdued and her lethal breast taken into custody.
Such events can make a chap very despondent. Stuck on the ground because a peck of piffling pumice has petrified the Namby Pambs in the airlines or mired in despair because Wellington seems more and more like the southern branch of Athens by the day, it is possible to feel utterly overwhelmed by the melancholy of it all.
But stuff it. Sod catastrophes. A pox on the lot of them, the whole ghastly, never-ending caravanserai of gloom that supposedly defines the world. 'Cos we've got Happy Feet.
And not only have we got Happy Feet, we've got him where he needs to be. In hospital, getting the best care and attention a frightened stranger could ever want. What a great story this is. The Lost Emperor, far from home, hot and bothered but rescued by those who found him and found in themselves the desire to help.
As you'd expect, there's been one or two moaning minnies wittering away on the wireless about this; complaining that it's all a waste of time and money and why would anyone in their right mind fork out a fortune to fly Mr Feet back to the Pole.
Well, lest we forget, the late Shrek was known to travel in a Learjet and what's good for a wether is surely good in bad weather, too.
The Happy Feet story reminds us that we can be selfless as well as selfish; that we can be kind as well as cruel; that we can go to extraordinary lengths just to do good things, not because we know they'll work but because we know we need to try.
And if that doesn't satisfy the cynics, which it won't because they're cynical, consider this. Like a cloud, every grain of sand has a silver lining. Not only is the Happy Feet saga a lovely story, it could be a lucrative one as well. It's the stuff that dreams are made of and the dream that stuff's afraid of.
Bad stuff, that is, all the run-of-the-mill gloom and doom. Because this is the opposite. It's a heartwarming, heroic story - brave bird, brave vets. It's a happy ending with feathers.
Folks, we've got a Bollywood blockbuster here, a box-office smasharama Wetamation that will earn squillions!!!
Do it right and we could buy Greece.
Right, so here's the plot. A handsome but heartbroken Indian vet comes to New Zealand, desperate to rediscover the will to live. Walking disconsolate along Peka Peka beach one day, he hears a sickly cough and espies an ailing Emperor, mouth full of sand. Schooled in the ancient wisdoms of ayurvedic medicine, our hero rushes the penguin to a nearby vet's clinic and asks if there is anyone who could help him save the bird's life.
Well, there is one nurse, they say, from India, but she's away at a dance class now because dancing is her dream. "Fetch her," cries the vet and in comes the dancing nurse (let's call her Gandhi Lane).
"Quick," yells the vet, "this is an emergency, a chance for you, nurse, to do something worthwhile instead of leaping about in a leotard."
She is angered by this but, before she can squirt breast milk at him, the doors fling open and Happy Feet is wheeled in, unconscious on a trolley. Her heart melts, they work through the night, save the penguin and then, in the light of dawn, consummate their love. And there you have it. A free trade in tenderness - ours to embrace.